19-04-2003
Civic Theatre - Newcastle, Australia
By BENNY
I have two words for that show "F*#KING AWESOME"

It was amazing. I have never been at a live show were the crowd participated so much. It was unbelievable, everybody was hyped and pumped before the concert and after a short stig by the Sleepy Jackson's which was all right Daniel came out by himself, sat down at a piano and began playing after all these years, the crowed went absolutely off. The atmosphere was electric you could feel the power. Words cannot nearly describe how good the concert was. Daniel absolutely controlled the stage and the crowd with his weird arm actions, shaken bum dance, solos with his teeth, guitar liking, story telling, amp humbing antics.

T his was the line up (I think).

Set 1
After All These Years
World Upon Your Shoulders
Tuna in the Brine
Luv Your Life
Paint Pastel Princess
Petrol and Chlorine
Across the Night
Ana's Song
Miss You Love
Steam Will Rise
Set 2
Emotion Sickness
Without You
Israel's Son
Black Tangled Heart
Do You Feel the Same
The Greatest View
The Door
Freak
Anthem For the Year 2000
One Way Mule
Encore
Asylum
The Lever
I don't want to go on to much because most of it has been said before in the other tour reports. However if you were not at this concert in newi, home town, home crowd it just wouldn't have been as electric and exiting as it was. It was by far one of the best nights of my life. Thank you Silverchair for an Amazing night....
---
By KEVIN
After already seeing the Sydney show, I already knew what I was going to expect. But seeing the boys for a second time at their home town is a much-greater privilege, especially when you are located literally 10 metres away from them. The size of the theatre is what really brought excitement; it was small for that intimate feeling, yet big enough for a rock concert. Just the perfect venue to see silverchair.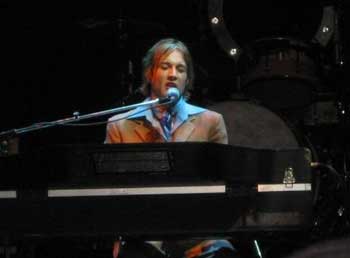 As soon as support band, "The Sleepy Jackson", walked off, that's when the crowds built up dramatically and the cheering had begun, long before the band came on. You could feel the excitement in the theatre. As soon as the stage crew had finished setting up, the lights dimmed; and that's when pandemonium erupted. "Act 1", as depicted on the middle screen (reminiscent of the "Across the Night" video clip), that's when the excitement and anticipation of holding those tickets for five months had paid off for.
Daniel's didn't take long to walk on for his electric piano. "After All These Years" was breathtaking when Daniel's unique voice could be heard over the cheering crowd. After that, the rest of the boys came on as Ben grabbed his Fender and Daniel was handed which I think was a Danelectro. Crowds were still cheering as Daniel played the intro to "World Upon Your Shoulders", the second song on the set list.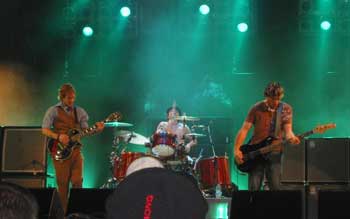 With the crowd still pumped, Johns was handed his acoustic as "Tuna in the Brine" started. You'd think these songs off "Diorama" would not sound up to scratch with its original recordings, but with the backing up of keyboardists Julian and Stuart, the sounds were crystal clear. As "Across the Night" was played, Johns was seen without his guitar in the second part of the song (…"so let's get married, and have another baby…"). He was waving his arms around and grabbed the mic like Phil from Grinspoon always has done. You could tell he was enjoying it as much as the crowd was.
The standout song of Act 1 would have had to have been "Ana's Song", played without the acoustics as originally done on "Neon Ballroom". As soon as "Please die Ana…" was sung, the crowds (dominated by the high-pitched screams of teenage girls), this song was a highly anticipated song to be heard in this concert.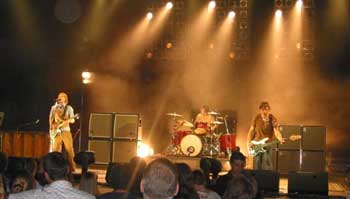 The closing song of Act 1, "Steam will Rise", was an interesting song to hear live, as they most likely have never played this live, and is such a relaxing song when heard on the original recording. It was played longer than the recording with a lengthy interlude which made the crowds anticipate what Johns and the boys would do next. I dare say that one would think they were playing a different song, or just jamming, until Johns came back to the song's chorus after that long interlude.
It was somewhat a relief to see the curtains come down, just to give time for the crowd to fully absorb what they have just witnessed and heard. Waiting for "Act 2" was just as crazy as it was waiting for "Act 1".
During Act 1 Daniel had promised some kind of a surprise which we'd receive later…
A ten minute intermission was well worth the wait to hear the undeniably beautiful "Emotion Sickness". The original and this live recording of "Emotion Sickness" sounds a lot different, yet listening to both is a pleasure to the ears. Next up was the big hit, "Without You", which was also a pleasure to listen to.
For anyone who had went to this concert, it would be easily noticeable that silverchair don't talk much between songs, which in my opinion is very good, just to keep the music flowing. But hearing Daniel talk is always interesting.
With a change of guitar and change of mood, "Slave", the opening of "Freak Show" was belted out. I remember a lot of the crowd stood up for the "heavier" part of the concert. silverchair were most energetic throughout this song, but there was more to come…
I was very happy to hear the more mellow "Black Tangled Heart", as this song was not played in Sydney (April 13th). Johns played the complicated introduction with great finesse, and I could do nothing but smile and sing along. It was a great song to sing along to. After that Johns grabbed his acoustic as "Petrol and Chlorine" started. This is a great song to listen to live, as this song I think has never been played before live as I read somewhere on the Chairpage website.
The song after that was also great to sing along to; "Do you feel the same". I think this was also a track that has not been played at all (as Johns said himself on "Live At The Wireless" last year before Diorama was released), it was also a treat to sing along, and to nod your head during a rare silverchair guitar solo.
After that it was back to "Diorama", and the greatest hit, "The Greatest View" was belted out on Johns' axe. The girls started screaming again during the intro, as people started to stand up again and sing along to this catchy number.
"C'mon everyone stand up…" was the call before which I think was "Act 2's" highlight as a slower in tempo, "Freak" was strummed with heavy-as distortion. So with Daniel's request, everyone did stand up, even the people in the top section of the theatre. It wasn't a pure mosh-pit because all these seats in the way, but it was good enough to listen to while standing up. I think it was during this song was when Daniel played the guitar with his teeth, I'm not exactly sure but he did it somewhere during this set.
Silverchair's anthem, "Anthem for the Year 2000" started, and politics was mixed with music with images of war, and some of the world's political leaders were depicted in the screens in the background. Daniel is obviously against the war in Iraq, and wanted to say something to his fans using those images of war. Somehow some guy got up on stage, and just before the bouncers could get their greasy paws on him, Daniel said "Let him go! Let him go! Say what you feel! Tell 'em how you feel", or something along those lines. It was kinda hard to hear as the song was still being played.
Before the final song, Johns yelled "…this is for a beautiful girl, you know who she is...", or something along those lines. The distortion happened again as the main riff for "One Way Mule" was belted out. The crowd were still on their feet cheering as the song was over and the boys walked off before the encore.
As the lights slightly came on for about a minute, sections of the crowd were chanting either, "More! More! More!…", or "silverchair! silverchair! silverchair!"
A moment later the lights dimmed as Daniel walked back on. The cheers were about as loud as the beginning of the show.
Daniel promised a dedication to his brother – and he did this for the B-side "Asylum", another piano song which is about as good as "After all these years". It was as peaceful as invigorating to listen to this number as a portion of the crowd clapped with the beat.
Rock song, "The Lever" was up next, but me and a mate who was with me had to leave as we had to make the 11:20 train back to Sydney. So we waved them goodbye and stormed out the theatre door after a final farewell. And unfortunately I would've missed that surprise, whatever it may have been…
Overall…the BEST concert I've ever been to. A show to remember forever.
Good luck to the boys when they tour overseas and for their fifth-coming album.
Enough said.