05-04-2003
The Palais - Melbourne, Australia
By MARINA
Photo by SHARYL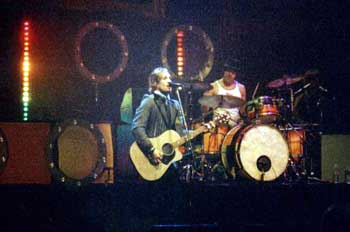 Five months before the show, Myself, Suzanne and Adam were sleeping outside 'The Palais', mind you without any blankets or pillows, to make sure that we got the best seats to capture and intake the moving music of silverchair for the 5th of April. And luckily, with such great other silverchair fans around us who also marched up early, time went quicker as we slept out till 12am till 9am.

As our calendars were crossed off each night, we new that we were getting closer. And let me tell you, the night before was a sleepless night, full of thoughts and twisting shivers from excitement.
The night finally came. And as silverchair walked onto the stage you could feel anticipation around the room. You could see everyones eyes bulge out of their eyes and their hearts beating with content outside of their own bodies. Everyone was free from all their shackles.

It opened up with 'After All These Years' and ended with ' The Lever'. But the one song that caught all the troubles in my world and drew them as far away from my body as possible, was 'Asylum'. The music of the piano took over my muscles and bones to bring them to complete solace. The crowd all thought it was a new song, but this particular song has inspired and helped me through my own chaotic times. But hearing it live, i felt so consumed by it's medicating presence.

The only thing was, we weren't allowed to take any photo's. We never may have the chance to see silverchair again, so the only way to remember them is to create my own photo album in my mind. My own sort of movie memorabilia. But the beauty of your own photo album in your mind, is that you can capture every feeling in your body with it. As with 'Asylum' i'll always know that i was in complete euphoria.

To wrap the whole night into a conclusion i can say that sleeping out was definately worth it. To be sitting in row A was like watching and feeling everyone around me forgetting all their troubles for this moment of time. Everyone seemed at peace with themselves, which is why silverchair are respected. They have a way of delivering a unique medicine just from their presence and feeding us with their sound.

Good luck to all remaining shows.
By STACEY
Set 1
After all these years
World Upon your shoulders
Tuna in the Brine
Luv your life
Paint Pastel Princess
Pertol and Chlorine
Across the Night
Ana's Song
Miss you Love
Steam will Rise

Set 2
Emotion Sickness
Without you
Slave
Black tangled Heart
Do you feel the same
Greatest View
The Door
Freak
Anthem for the Year 2000
One Way Mule

Asylum
The lever

It was the best show I have ever been to. We sat near Rove McManus and Guy pierce. Excellent!
By DALE
Saturday the 5th of April was the greatest day in my life, I got to see my favourite band in the world perform live, it was so good. It was a long wait scence early December, but it was all worth it. My seats were awesome, Row P in the stalls, seat number 45, right in front of my idol Daniel Johns.
The Support band, the Sleepy Jackson's were alright, they had a couple of good songs, but when they were performing Silverchair fans were yelling out "we want Silverchair", so the atmosphere was incredible. After the Sleepy Jackson's finished the curtain shut and all the Silverchair fans were excited. Then the curtain raised and the stage was set, it looked awesome, Daniel Johns walked on stage, and played "After all these years", then Ben and Chris walked on, and they played World upon your shoulders, it was incredible. The Next Songs were Tuna in the brine and Luv your life (both sounded awesome live). Then Daniel whipped out his classical Les Paul guitar, and played paint pastel princess (highlight from set 1), and then Petrol and Chlorine. After that Daniel was talking to the crowd and said "in Perth this sick guy, said to him if he played this song, he can get cured, so he played across the night", followed by Ana's Song, Miss you love, and steam will rise (Ben did a kick ass drum solo during it and at the end) and that was the end of set 1. Then there was a 10-minute intermission.
They started Set 2, with emotion sickness (which I was most looking forward to), then, Without You which was a big crowd pleaser, everyone standed for that, Slave was next (that got the biggest roar for the night), then black tangled heart and do you feel the same. Followed by the greatest view, which was awesome. Then they did, door, anthem, and freak which were all awesome (especially the door), then they finished set 2, with one way mule (highlight of set 2)
Then came there encore, and the roadies wheeled out a keyboard just Daniel on stage and played "asylum", and after that Ben and Chris walked on stage and Daniel said "thank-you "Sleepy Jackson's" and the crowd" and went straight into the lever it was incredible and they did this incredible outro, and Daniel was playing with his teeth and then they left stage, and Daniel was swinging his guitar around, and looked like he was gonna chuck it but he placed it on the ground. The show was awesome, thank-you Silverchair for putting on such a great show.
By HAYLEY
I had been waiting for Saturday the 5th for a long time. I had been through the stages - excitment, forgetting, fear, jitters, nothing and more excitment. But finally the day arrived and I found my seat in the fourth row to be particually rewarding for my wait. But more rewarding was the show that was to come. The stage was set with the trademark neon circles, the Diorama lights, three picture frame style screen, Ben's multi-coloured drum kit and Daniel's microphone. In an intimate, theatrical atmosphere, with escense burning and a wonderful positive, adrenilated energy coming from the stage the night began with a lone Daniel on stage, just him and his piano performing After All These Years.
Then he was joined by Ben and Chris, and the two talented back-up vocalists and keyboardists. In an aray of magical lighting, with spotlights and streams of colours, Silverchair formed to play World Upon Your Shoulders, Tuna In The Brine and Luv Your Life. The band then flashed back to perform a stunning Petrol and Chlorine from Freak Show after Paint Pastel Princess from Neon Ballroom.
Over the incredible crowd reaction and support, Daniel revealed that the next song he wrote for a man dying of cancer, who said that music would cure him. That song was Across the Night. In two concert-altered performances, next was Ana's Song with an intence guitar solo opening, and Miss You Love with heart-wrenching vocals.
The first set finished with Steam Will Rise, with a beautiful drum solo by Ben, who remained on the empty stage.
After an interval, the guys returned looking pumped and refreshed, ready to belt out Emotion Sickness, with more energy than ever before. Afterwards came Without You, with got the crowd that Daniel declared the best of the tour, to their feet with much enthusiasm. Slave released a hard rock vibe into the theatre, with Daniel continuing his teeth playing, bum-wiggling, microphone swallowing, dancing entertainment. Back to Neon Ballroom came Black Tangleled Heart and Do You Feel the Same, which are rarely sung live with Silverchair performing The Greatest View, Aria style, and The Door.
As the night began to draw to a close, the energy continued to grow, with Anthem for the Year 2000, and Freak encouraging audience partisipation, singing "We are the youth!" and "I'm a freak!".
Set two ended with a bang with One Way Mule. Silverchair excited the stage, with the crowd roaring and stomping for more. Daniel returned, much to everyone's delight and went solo again to sweep the audience with Asylum.
But the audience once again rose when Silverchair reformed to play The Lever, which was the perfect finish to the perfect night. With a long, incredible finish the band began to leave the stage, Chris gracefully, Ben in his underwear after throwing his drum sticks to a million set of waving hands, and Daniel, swinging his guitar around in circles was the last to go. The concert wasn't just a concert for me, it was a journey which was completely fulfilled, which I wouldn't change one second of. It was magical and left me tingling all over.
By STEF
There were persian rugs. There was incense. There was awesome lighting in the gorgeous Palais Theatre. There was Ben's tiny black shorts. There was quite a bit of booty-shakin. There was lots of guitar solos.
Silverchair rocked the house down! There aren't enough words to describe how great the show was. What was most enjoyable, was realising how much the guys were enjoying themselves too – it was fantastic to see Daniel smiling. Silverchair are at their best so far in their career – by far the best live act I've ever seen. The skills of the keyboardists created much diversity and depth to the live songs (Julian was especially great on Emotion Sickness). Better than having an orcherstra perhaps, because the keyboards can make all the electronic sounds, like at the start of Anthem and in Steam Will Rise. Daniel seems a lot more confident, both vocally and dancing around on stage – he'd occassionally turn around and shake his bum at us, or conduct the orchestral parts of a song, or emphasise his vocals by spreading his arms out in an embracing gesture. He was also very energetic, sometimes coming forward to the edge of the stage and doing a few Elvis-like moves. All three guys were really getting into it – they looked like they were having heaps of fun.
Daniel started out alone doing After All These Years on piano, which was an amazing start to the night. I can't remember the order of the rest of the set, but it included: The Door, Freak, Anthem, Petrol & Chlorine, Steam Will Rise, Without You, Tuna in the Brine, Across the Night, World Upon Your Shoulders, Ana's Song, One Way Mule.
Most of the Neon Ballroom ones were altered, and many included extended guitar or drum solos, which Daniel apologised for at one stage (Ben had a huge one in Steam Will Rise – it was great). Before Steam Will Rise he told us it wasn't played live much, but that it was really cool and he thought we'd like it. Other stuff he said was a happy birthday to 'Kate' and telling people on the balcony to be careful not to fall off. This was after a girl in the front row balcony was refusing to sit down and security were in a bit of a fluster about it, but then she did. I was fifth row from the front of the balcony (I think I spotted Guy Pierce in the front row, singing along to a few songs and tapping his hands on the balcony top) and unfortunately security wouldn't let us stand up, which was irritating, especially when Daniel told us to get up, in songs like Freak and The Door. The impulse to get up is so strong for some songs, it was hard to stay put. Some people tried a sitting down version of moshing, which was amusing. Daniel also introduced the keyboardists, but forgot Julian's name. He also said we were the best city and the best audience (but I bet he tells that to all the audiences...)
On Anthem for the Year 2000, Daniel let us sing the first verse and it sounded amazing. On the three screens for that song there was also a whole lot of media footage and the like about the war in Iraq, which I thought was very appropriately done, and exactly the right song to do it for, and got me a bit choked up actually. We also got to sing by ourselves in Freak, which is always fantastic, hundreds of people singing "body and soul, I'm a freak... I'm a freak..." In this song Daniel would also switch from falsetto to a low growl, just to keep it interesting I guess.
Twice in the show the guys passed around a water bottle to each other before a song – this was weird because they all have their own water bottles, yet they each took turns taking a swig from this one – maybe for good luck? Also, in the interval and when the show ended, very cool James Brown hits were playing that got a lot of people dancing around – Ben's selection no doubt?
Across The Night was particularly memorable – it was SOOO GOOOD!!!!! Indescribably good – you'll have to see it for yourselves. (Daniel said the story of its inspiration was now about a guy who came to him in a dream and he had cancer, and he tried to save him.... something like that) They played the video clip on the screens. My other favourites were Tuna in the Brine and Without You. The crowd seemed to love the whole show, although one idiot yelled out "play a song" during the new intro to Ana's Song (must've thought Daniel was tuning or something?). The stuff on the screens was sometimes a bit boring, but sometimes it was really connected to the energy of the song that was playing. Before Freak the heaters appeared on the screens, accompanied by an incredible roar/scream from the crowd - everyone knew what was coming.
A lot of stuff, especially from Diorama, sounded like it was from a film soundtrack, very lush and layered – so when can we expect to hear Daniel's influence on a film score? Hopefully we won't have to wait long. All in all, it was an incredible night of music – congratulations to the 'chair, it was sublime.