02-04-2003
Festival Theatre - Adelaide, Australia
By MATT
Photos by ANNIE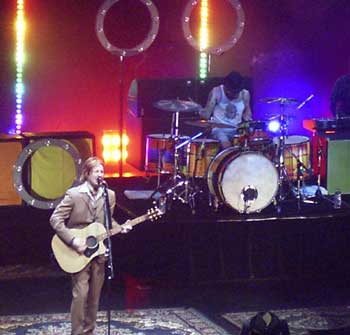 Simply Awesome! I never thought I'd see a band like Silverchair play such an unusual venue like the Festival Theatre (usually reserved for theatre etc.) As it turns out, the 'Chair couldn't have taken the Across The Night tour to a better venue - good acoustics, fantastic view of the band from anywhere in the theatre. Our seats were particularly great - row F - just at eye-level with the band!! Sorry, guys behind us, not trying to rub it in!!

It was great to see people stand up and enjoy their live music without having to worry about what/who would land on their head or where the crowd surges were going to take them. The atmosphere in the crowd was what it should be at a live concert - happy, not anxious or angry. Everyone there seemed to be enjoying themselves!

The visuals were unbelievable. Those vertical rainbow light towers were a highlight in themselves! The video screens were a great addition: really added some fantastic eye candy. The anti-war visuals in One Way Mule were awesome, and I loved the 'heaters' in Freak. I was impressed at how quickly the stage setup was changed over during the intermission. It went from a 'grandiose' Diorama-like setup to a rock concert setup in just a few minutes. A credit to the Silverchair tech crew. And well done to Ben for getting his clothes off so quickly! Nice bike shorts, mate! Attention to detail was good - such as the ornate frames around the video screens in act 1. It created a great mood - a Diorama theme.

The band themselves played flawlessley. Those in the media who suggest that the 'Chair won't tour again can eat their words: the guys seemed to be loving every minute of their performance. Daniel was quite animated and seemed to enjoy 'conducting' throughoput the show (but lost for words as usual). He played some breathtaking guitar solos ("Just for you", he said, as this was the first Adelaide show to sell out. "You're all very...quick!"). Chris was more subdued, while Ben didn't stop smiling all night.

Highlights for me were:

ACT 1
Petrol & Chlorine - maybe because I haven't listened to it for so long, it sounded so good and Daniel played it superbly
Tuna in the Brine/Across The Night/Luv Your Life - I couldn't wait to hear these songs live. They were re-created almost perfectly with the two keyboards (who needs an orchestra??!!) Probably the most powerful songs of the night. The sound was razor-sharp.
Steam Will Rise - nice instrumental at the end - Ben drummed like a madman!

ACT 2
Black Tangled Heart - not played live until this tour (along with Do You Feel The Same, I believe). Worth the wait! At first I thought this one would fit better in the first act, but it built up to a *loud* crescendo.
The Door - "You're going to love this one!" -Daniel. Always great!!
The Lever + instrumental - just awesome. Dedicated to The Sleepy Jackson (who weren't bad!). All those who said that Silverchair are crap at improv can get f#$*ed!!

Here's the complete setlist: It's the same as the other Adelaide show, but Slave replaces Israel's Son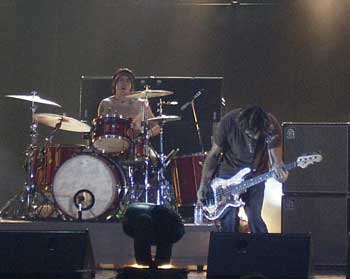 ACT 1
After All These Years
World Upon Your Shoulders
Tuna In The Brine
Luv Your Life
Paint Pastel Princess
Petrol And Chlorine
Across The Night
Ana's Song
Miss You Love
Steam Will Rise
ACT 2
Emotion Sickness
Without You
Slave
Black Tangled Heart
Do You Feel The Same
The Door
Freak
Anthem
One Way Mule
ENCORE
The Lever
Instrumental
Such a fantastic show. Words can hardly describe it!! Songs from Frogstomp were hardly missed amidst all the newer songs (by me, anyway!)
I hope some east coast shows are recorded. How fantastic would an "Across The Night LIVE" 2cd be?? Hint, Hint!!
---
By SONJA
that was the best night of my entire life EVER EVER EVER.. and i'd say a lot of the people who were there would agree!
the support act were the sleepy jackson, who were pretty good, and they mentioned something about how lucky we were to be seeing one of the best bands in the world.
then there was a little intermission, and it was time for silverchair!
the first song they played was after all these years, just daniel and his piano and that was sooo beautiful i almost cried. lol
then ben and chris came out and they started playing world upon your shoulders which was very fucking cool. then daniel swapped to his acoustic and they played tuna in the brine which was AMAZING and then i think it was luv your life which was definitely a highlight .. that song is more awesome live than you could imagine.
after that daniel swapped to his les paul and they played paint pastel princess, then it was time for petrol and chlorine which was barely recognisable to begin with but was amazing!
then back to the acoustic for across the night which was definitely one of my favourites. daniel has the most amazing voice live, it had so much emotion. during across the night he did lots of funky hand movements and then for the second half of the song he ditched his guitar and just danced around on stage, even grabbing his crotch in one part.
then it was onto ana's song which i almost cried during as well then miss you love (another crying moment), after that they played steam will rise which was incredible!! it was great, chris' bass rocked.
after the first set we had a 10 minute intermission.
i can't really remember the order of songs they played the second set in ..
emotion sickness was first and that was beautiful, the band were really getting into it, and it was followed with a lot of screaming from the crowd.
i think slave was next which was GREAT, we all stood up and danced which was cool. black tangled heart was also one of my favourites, AMAZING live ... most people sat down again for that one. then came do you feel the same i think, which was incredible, daniel's solo kicked ass.. you could tell he was having a lot of fun playing all the songs.
the door was next and before that song daniel commented on how much we were going to like it, then he screamed for everyone to 'get the fuck up' and everyone just went insane jumping around everywhere. again, it was one of the best songs of the night.
freak and anthem were also songs where a lot of people were up out of their seats, trying to mosh was hard when there are seats everywhere but we managed and it was sooo much fun.
they also played the greatest view and without you which were both beautiful, and the lighting was great. everyone was trying to dance during those two, but most people just sat down.
the last song they played was one way mule, which was very heavy and very very very good. another dancing song for sure, and everyone (including the band) seemed to be enjoying themselves immensely.
the band left the stage for about a minute, then daniel's piano was wheeled back out and he started playing ASYLUM which i almost cried during as well. it was incredibly beautiful and also another highlight of the night.
then ben and chris joined daniel for the last song of the night .. the lever. everyone stood up again for this one and basically just jumped around having fun. it was awesome! there was a little instrumental ending which was really good, and went for about 5 minutes itself.
then it was time for silverchair to leave and everyone cheered and they all smiled at the crowd and i was so happy i could've burst.
during the show daniel talked a fair bit, making a few jokes and commenting on how the crowd were the best people in adelaide because we were the first show technically and he appreciated our dedication. that made everyone scream VERY LOUD :)
throughout a lot of the songs daniel and ben were smiling a lot, they looked like they were having such a good time!
so to conclude, silverchair are definitely one of the best bands you will ever hear/see, and it was so awesome to be witnessing such an incredible show. it's definitely something i'm NEVER going to forget.
---
By MEGAN
I feel so extremely priviledged to be one of the so few Adeladian fans to have seen Silverchair in concert, one of the most anticipated experiences in my life.
I never in a million years expected to see, feel and hear the emotion that I encountered last night. The venue was perfect, small and intimate, so every beat and passionate note could pound through your body. I have only been to two Silverchair concerts, and I didn't quite know what to expect, as the band has evolved so heavily since their Frogstomp and Freakshow days so many years ago. I can tell everyone who has yet to experience this concert, you will certainly not be disappointed.
Every song in the set complimented the feel of the show, opening with just Daniel, a spotlight and a piano to play After All These Years. A beautiful, personal display of the song I have grown to love on the album, but never actually experienced.
I won't bother to go through every song in the set, as you can all read from past concerts.
This is one exeprience in my life that I will certainly never forget. I will comment on one song that touched me in a way that I have never felt before, and never knew music could possibly make you feel. Asylum. I had never heard this song before, but the words and the feeling that Daniel sung it with sent shivers through my body, and I almost cried. No other music has ever done that to me before in my life, and never understood the power of music until last night.
I have to say thank you to Silverchair for performing, no words can describe that event, and it doesn't matter how many reports you read, only experiencing Silverchair live will explain what others feel.
---
By WAYDE
Well what can be said?? Kicking of with Daniel solo, the event moved from strength to strength. They covered an amazing stretch of tunes, encompassing pretty much every CD they have released. Daniel, Ben and Chris may well be the best band on this earth. They certainly are the best Australian band in a very long time. The lighting was suiting, the effects (strobes etc) awesome, and the performers - well... what can I say??
Daniel was 'on fire', with amazing playing using his teeth, wiggling his ass to the crowd, moving like only he can, and making his guitar talk in ways that would make Jimi Hendrix impressed. He made love to his guitar while executing some amazing sounds from the instrument.
If this is to be the last Silverchair Tour, they certainly did it on a high note. Other bands will be hard pressed to top it in my 'greatest view'.
---
By SONARA
Last night I was transported into a pure "Diorama"! I am still reeling today coming to terms with the sheer magnitude of magnificence, which was orchestrated on stage by "Silverchair".
The Adelaide Festival Theatre was a beautiful venue, which allowed the sound to travel to every facet of the theatre. The depth and richness so intense, that even though I was sitting 3rd row from the back nothing hindered or disappointed.
The repertoire of songs chosen transported the entire being into a vast array of emotional states. Journeying from laughter through to tears and all in between. This was also partly to do with the brilliance of the two keyboard players, who made me feel that an orchestra was not missed.
The band gave there all for every song performed. In Steam Will Rise Daniel worked his guitar real hard! Leaving it face down on the stage to echo profusely and tantalisingly, as the red silk curtains came down ending Act 1. Leaving us entranced and waiting in anticipation for Act 2.
Then the lights dimmed plunging the audience into darkness. Within seconds the blue lights gave rise to screaming from the anxious crowd. Screaming applause greeted Ben in his Jocks and bandanna tied around his brow. Chris made his way to his side of the stage seemingly ready to Rock! Daniel had his Pierotte Sad Clown eye make up on. Contributing to his performance, ever changing, a magical entertainer.
Certain facial expressions seen gave the feeling of animation, frame by frame. His hand movements artistically unleashing the magical notes around him. Daniel worked his guitars in ways I have never seen before! But Mmmmm! Mmmmmm! When he ate (I mean) played his guitar with his tongue, teeth (who knows) but when he buried his face into those strings My God!!!!!!!!!!!!!! Words just can't describe. What an experience!!!!!!!!!!!!!!!!!!!! Daniel in his performance was willing to share with the audience his level of growth. By strutting his stuff from the masculine through to the feminie, Brilliant!
The whole performance was so satisfying but the paradox is: "It was such a tantalising tease leaving everyone still wanting more!!!!!!!!!!"
Thank you for an art enriching experience and making me feel part of a whole cosmic orchestra.