29-03-2003
Belvoir Amphitheatre - Perth, Australia
By GEORGE
All photos by JESS
A night of mixed emotions!
Definately a memorable chair concert for good and bad reasons.
The night started with high expectations, anxiety and just the urge to see the CHAIR!!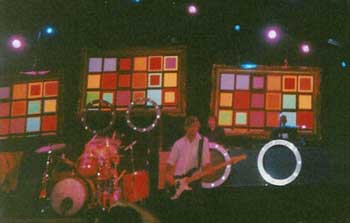 When Sleepy Jackson got off stage the crowd began to progress to the front the chant of Silverchair began but the weather made a turn for the worse... it began to rain. No one was worried, everyone was too busy co-singing with Daniel to After all these Years, World upon your shoulders, Tuna in the Brine and so on, which were part of the first Act of the show, which really took my breath away the way the songs were so emotionally and charismatically played by the boys. Finishing the first set was Steam will Rise a definate highlight of the night with Ben's drum solo.
There was no real intermission after the first act the boys went straight into second act with Emotion Sickness which was extended and beautifully played. By this stage it was pelting with rain, Daniel commended the crowd on puting up with the rain and said, "We wouldn't even stand out in the rain for a band...except maybe Grinspoon." He laughed hard with Ben. Without You followed then Slave (which fueled the mosh!) and then The Greatest View. Then a change from previous nights, no Black Tangled Heart and Do You Feel the Same (one I was looking forward too), the boys went straight into The Door, people didnt realize at this stage it was raining hard and we were moshing hard to the The Door. Daniel said "We don't know whats going on up here. Freak followed then Anthem with some great political antiwar visuals and One way Mule which i was waiting for all night.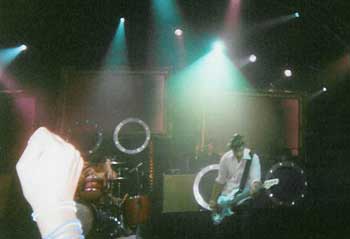 Then that was it Silverchair left the stage no goodbye, obviously we assumed there would be an encore as there had been the last four shows included The Lever and Asylum in them, and as we bloody well screamed hard for one....But there was none...
Fans were angry, drenched and shocked. The roadies began feeling the wrath of the semi drunken, wet croud. They began packing up and people began leaving and booing. I was so upset I didn't want Silverchair to leave on bad terms and to end such a good night like this. The roadies began handing out the set list saying this was it! Silverchair did play non-stop however no break and the weather was terrible so that must of played a part in the early dismissal? By 10:30 the area was evacuated by security, half an hour early, and the rain began to pour harder. Daniel did say "This isn't the normal show this the drunken rainy crowd show." Did that mean a shorter show?? A semi AWESOME night.
Set 1
After All These Years
World Upon Your Shoulders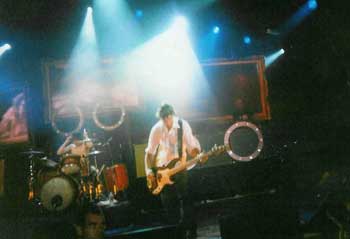 Tuna In The Brine
Luv Your Life
Paint Pastel Princess
Petrol And Chlorine
Across The Night
Ana's Song
Miss You Love
Steam Will Rise
Set 2
Emotion Sickness
Without You
Slave
The Greatest View
The Door
Freak
Anthem
One Way Mule
(NO ENCORE AND NO SONGS FROM FROGSTOMP PLAYED???)\
---
By HAYLEY
I have just experienced one of the best nights of my life!!!
It's hard to try and describe something so magical, it was one of those nights where you just had to be there. The atmosphere was amazing. In the outdoor Belvoir Amphitheatre, with the sky lit up by lightening, and the rain pouring down, absolutely drenching everyone, it just made it so much more unique and special.! Some might say that the rain was unfortunate, but that did not stop anyone from having the night of their lives! Least we will never forget it. and I doubt Silverchair will either!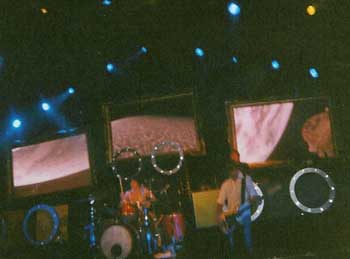 After the supporting band, sleepy Jackson, which were not too bad, just as Silverchair came on stage, it began to rain. And almost did not stop the whole time. But that did not dampen our spirits. The beginning song, with just Daniel and the keyboard, after all these years, just took everyone's breath away. His voice was so amazing and beautiful.
Daniel was apologetic that it was raining but told us he would try to make it worthwhile for us. Worthwhile did not even come close! They played most of the songs off their new album with a few of their old favourites thrown in such as slave, anthem for the year 2000, freak, paint pastel princess emotion sickness, steam will rise, the door, miss you love and Ana's song.
Daniel told us about a dream he had 2 nights ago, where a man came to his door and asked him to play a song for him because he had cancer. The man said that the song would cure his cancer. Daniel didn't believe the man but eventually played the song and the man was cured. This then led Daniel to play "across the night" as it reminded him of this dream.
Daniel thanked the crowd for staying despite the rain and added that he wouldn't stay in the rain to listen to them. The only band he would do that for would be Grinspoon. I know despite rain, thunder and lightening, nothing would make me miss this concert. I had been looking forward to it for so long.
The guys decided that they wouldn't have an intermission because they felt sorry for us in the rain. So they had to keep playing without a break. It was really sweet of them to even consider the crowd as a lot of bands would not have cared.
After seeing them play live, I am just more in love with Daniel Johns than I ever was before. A few nights back my sister coincidently happened to see him at his hotel and met him and got his autograph for me! It now has a special place in my bedroom!!!!
Silverchair is one of the greatest bands of all time, and after seeing them live, I don't think anyone can dispute this. Daniel is an inspiration to everyone and especially to myself, and I wish him all the happiness in the world!
---
By JESSICA
Even since before I bought my ticket at 9am on the first day they went on sale last year in November, I've been looking forward to last night's concert. That's like 4 and a half months, and I was unbelievably nervous and excited before the show.
Ok, so it' show night. Show starts 7pm according to the ticket. 7.30 comes, nothing's happening. 8 o'clock comes, and the support band hasn't even started. But's that's ok, it's Silverchair we're waiting for. After about 15 more minutes sitting in freezing weather, the dodgy country/western support band, who doesn't even tell us who they are starts to play. They finish, and around 9pm, just when it's starts to poor with rain, Silverchair comes out. Daniel Johns was incredible. And the show was awesome. I think the rain added to the whole vibe. I know the show didn't follow the usual plan, Daniel called it "the drunken, rain drenched version."
After reading reports from shows in Brisbane saying how great the '3 hour show' was, I was kind of disappointed, seeing as the Perth show was only about an hour and 20 minutes long. They came onstage at 9, and left before 10.30. It was meant to finish at 11. And I know that nothing could be done about the rain, but if the fans didn't mind, I reckon they could've gone on with the show, the band wasn't getting wet.
By the end of the show, all I was thinking was was a fucking great show. But when the guys just walked off stage after some not particularly memorably final song, without even saying goodnight or goodbye or thanks for coming, I felt pretty ripped off. And then when they didn't come back out, even when the crowd was hanging out for them, still in the pooring rain, and people began to disassemble the mic, and stage, everyone was pretty pissed off.
I still walked away thinking it was a great night, but come on Silverchair, how hard is it to say goodnight?
---
By TARYN
What a bloody awesome night! I have been to many chair concerts, but this one takes the cake. Even though it rained heaps, it still was rockin'. Belvoir kicked ass! My fav part was definately ACROSS THE NIGHT. Daniel always seems to amaze me with his awesome voice.
I had been hanging out for this night for so long. As their name suggests, Sleepy Jackson put me right to sleep. Thats probably a bit harsh considering I had waited 3 long months (since the tickets were on sale) to see the 'chair and I couldn't wait any longer for them to come out.
When the time did come for silverchair to grace us with their presence, the crowd went wild! After all these years kicked off precedings, the crowd got right into it joining in with daniel singing. Then the rain just kept getting heavier and heavier. The thunderstorms had a few in the crowd a bit worried - I couldnt care less, I was having an awesome time!
I loved all the new stuff they played live. I was disappointed though that we missed out on Black Tangled Heart (my fav), Lever and the encore performance of "Asylum". However the reworking of Petrol & Chroline was fucken brillant, I had never heard it live before. The extended version of Emotion Sickness was kick ass as well.
Although we missed out on a few songs, who could blame the boys. They hadnt had a break for the whole time they were out there. The weather was miserable and they felt sorry for us! All in all, the concert was bloody awesome. Hopefully the rumours arent true that they werent going to do any more live performances after this tour. I really want to see them again! If it is the last time, I'm glad I was there and what an excellent way to go out.
By the way, I loved the hat ben was wearing!
---
By CHAD
An unbelievable night in many more ways than one. I must begin by informing every one of the environmental factors. Perth had the wettest March day in 33 years on Saturday. In addition there were officially over 1000 lightening strikes from 9pm till 2am (I assume everyone knows that Belvoir Amphitheatre is an outdoor venue). Because of the weather Silverchair's first set began early, just 20 or so minutes after hometown support The Sleepy Jacksons set ended. They were tight but as usual lack 45 minutes of quality songs that will keep a diverse crowd such as the one at this show interested.

I can not emphasise enough how good the "mellow" set sounded. The reality is that the first set was anything but mellow. Admittedly I had been sceptical on how songs from Diorama would come up live. I couldn't have been more wrong. My only quam was the use of the programmed orchestrations. The strength of Diorama is that the songs are so intricately yet so subtly layered. Some orchestral parts were to 'obvious' for lack of a better phrase, sometimes taking away from the raw power and emotion that was being presented on stage. A small (and personal) downfall.

It began as all the other shows have done, Daniel alone on centre stage, playing 'After all These Years'. I'm not going to attempt to describe this song; you have to see it to believe it. 'World Upon your Shoulders' was second with extra guitar fills and more busy drums than when it was played on the Big Day Out shows in 2002. Live, 'Petrol and Chlorine' and 'Steam will Rise' are Silverchair's best songs, no doubt. 'Petrol and Chlorine' sounded more like Zeppelin jamming out in the 'Kashmir' era rather than Silverchair. I say this not so much with respect to style (although the way Silverchair were jamming out interludes and repeatedly building songs up and down was indicative of this) but more so in feeling and atmosphere.

Perhaps the most amazing point of the night came halfway thru the first set when Daniel announced the band were to play 'Across the Night'. Daniel introduced the song in the same way as the night before, telling of a dream he had two nights earlier where a man with terminal cancer approached him and asked him to write a song that would cure him. This is apparently what 'Across the Night' is now about. I have read reports of TOOL shows where they have been playing A enema (you know, 'learn to swim, learn to swim!) and outside it has been raining heavily. During the whole of 'Across the Night' we had thunder, lightning and rain pummelling us. The most incredible backdrop for one of the most polished songs of the night. I would have gone home a happy man if the gig had finished right there and then (and it almost did), but luckily it didn't.

As I have read there has been about a 20 minute break between Silverchairs two sets. Due to the lightning becoming dangerously close the break in this particular show was around 4 or five minutes. The second set opened with Emotion Sickness, not the best live version I have heard however the "Get Up" bridge was incredible, Daniel manipulating his voice in ways I have never heard before. 'Without You' was next with its extended intro. It sounded pretty huge, as did all the songs of the Diorama album that were performed that night did. It was at this point however that the thunder became louder than Bens double kick and the lighting moved even closer presenting a definite risk of electrocution. Bailey and Watto could be seen constantly checking the weather and the state of the crowd, all of who were wet but none of whom and left or stopped rocking out for that matter.

After 'Without You' however the set was amended and to my dismay 'Israels Son' was omitted from the set. 'The Greatest View' was bought forward to allow the crowd to hear the 'hit' in case the show was to be cut short. It was during this song that I finally realised how privileged everyone was to be attending this night. At this stage it was obvious the show was going to be cut short and we were to miss out on some definite 'rockin set' highlights. But the thing was no one gave a fuck. Who else but the few thousand people present, would have the chance to be rockin out in the middle of an electrical storm and torrential down pour, feeling every skin Ben hit, watching Chris curled over his bass and Daniel singing lyrics like he means them again. Never have the words of 'The Greatest View been more relevant.

On the flipside there was no room in the set for 'Black Tangled Heart' and 'Do you Feel The Same'. The rest of the show was a bit of a rush to get through the usual rocking tunes (Freak, Anthem, The Door), the set closing with a thunderous version of 'One Way Mule'. This song sounds a hundred times bigger than it did when it was first played live in 2002. By this stage Ben was playing in only a wide brimmed hat and his undies.

There was no encore, no 'Asylum' or 'The Lever'. I was annoyed because I knew they were to come but no one else seemed angry or upset. In fact all I heard on the trek back through the now mud paddock was "whoa look at the lightning" and "that was the best gig I've ever seen." And it was, sure there was no 'Israels Son' or 'Black Tangled Heart', but no one cared because everyone who attended this gig knew that they had experienced something that not many others ever will.

Luke from The Sleepy Jackson said during their set that 'We were going to see one of the best bands in the world tonight'. That debatable, what is true is that Silverchair are better than they ever were, and you can tell they are enjoying it.