28-03-2003
Belvoir Amphitheatre - Perth, Australia
By SHAINA
All photos by MELISSA C
This was markably the best night of my whole entire life. As I arrived I saw the amphitheatre slowly fill up. Soon, 7:00 went by as did 7:30 then around 7:40.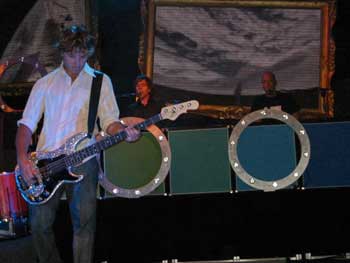 The Sleepy Jackson finally made their way to the stage. They werent bad. When they left the stage and the screens began to rise, the mosh pit (which was where I was) started to push and huddle together so everyone could get the "greatest view" of Daniel as he entered the stage and sat at his keyboard.
Tears ran down my face from excitement and disbelief, as I was actually seeing Daniel Johns in the flesh, something I thought would never happen. The first song he played was "After All These Years". As the audience roared and I mean ROARED, Daniel stood up with a little smile on his face and picked up his guitar. Chris and Ben then came out on stage, Ben only wearing boyleg briefs (hehe) and they continued onto their next song.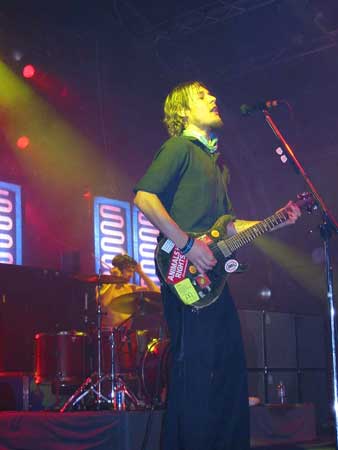 Half way through "Across the Night" Daniel started to lift up his shirt and rub his chest while with his other hand, grabbing his genital area. I couldnt help but laugh. The second half came around and Daniel entered the stage with a bottle of bourban, I think, and placed it next to his microphone. Every now and then he would have a swig.
I had gotten out of the mosh pit by that time because I was just getting squished. So I was standing on the stairs with yet again another great view of Daniel and a rather close view too. The second half was mostly their heavier music and everyone was jumping and screaming. Daniel looked so healthy as he danced around on stage, passing his bourban around. As it drew to the end of the show, Daniel was yet again on his keyboard playing "Asylum"- the best song EVER- and as Daniel said, "Dedicated to my new boyfriend, Luke" hehe. He played it beautifully and it took my breath away. He ended the show with a song that made everyone jump around and act carzy, but I'll leave it up to you to find out what song that was.
I cried for the last time that night as he left the stage, knowing I might not ever see the band again, unless they are touring in the future for another album :) heres hoping! This concert was amazing, a night I truly wont ever forget. And as I listen to all my Silverchair cds at home I wish I was back in the atmosphere listening to the music that lets me free. All the best for future concerts Silverchair!
---
By PIPPA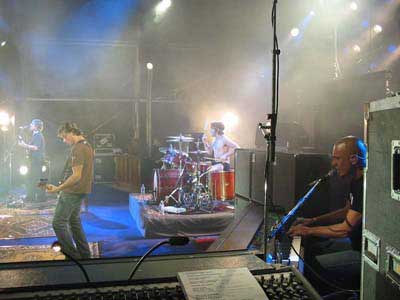 It was worth the wait....I wasn't sure if Silverchair would live up to their formidable live reputation, but they did, and then some. I am so sorry that the Saturday night crowd had to put up with such shit weather, because the Friday night gig was perfect in every way.
Belvoir Amphitheatre, for those of you who don't know, is an outdoor tiered natural amphitheatre with amazing acoustics and a really magic vibe to it. The place was packed and there was a real party atmosphere from start to finish. I was down in the "moshpit", a couple of metres away from the stage, with a perfect view of Daniel!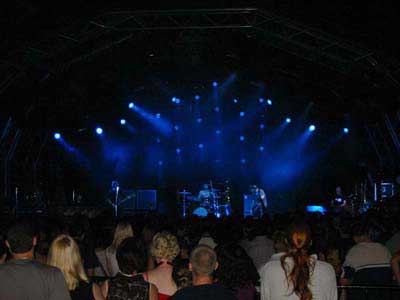 The set list was pretty similar to what was listed in the Wollongong gig, with the exception of "Do You Feel the Same", which was an unexpected treat. Daniel raved about what a great venue it was, he really looked like he was enjoying himself to the maximum, and told us he felt like he was at the best party of his life. Everywhere I looked there were smiling, clapping, jumping, singing people - it was awesome!
Daniel's singing was extremely powerful and clear. I had gone to the gig with my brother, who is a big Chair fan, and his girlfriend, who doesn't know that much about them, and by the end of the night even she was gobsmacked by the band's talent, especially Daniel's guitar playing. He pulled a few rock god moments, waving his arms about madly during 'Across the Night', playing the guitar with his teeth on a couple of occasions, singing "It's my party and I'll cry if I want to" between songs (with the crowd singing at the top of their lungs with him), and climbing up on the speaker stacks to play guitar on his knees during 'Lever', which rocked like a bastard and finished off an unbelievable night.
I think Daniel really appreciated the mood of the crowd - it felt like a real celebration, with every song becoming a singalong towards the end. Highlights from Set one included 'After all these years', 'Paint Pastel Princess', 'Luv Your Life', 'Black Tangled Heart' and 'Do You Feel the Same'.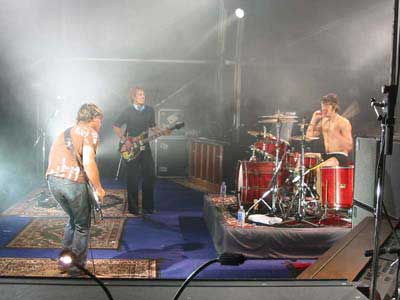 After a brief intermission the Chair were back, and at this point the excitement level went through the roof (if there'd been one) as one stormer followed another - 'Greatest View', 'The Door', 'Freak', 'Anthem', 'One Way Mule' and 'Israel's Son' (the crowd went BALLISTIC to this one).
When it was over I was on a high, feeling physically wrecked but emotionally ecstatic! I could have listened to another three hours of it, and the next day I felt pretty deflated - all the anticipation had been worth it, and now it was all over, too quickly!
Maximum respect to the entire band - you ROCK and I am a SIlverchair fan for life. To the Saturday night crowd, I hope the rain didn't spoil the party too much.