25-03-2003
Wollongong, Australia
By TRISTAN
Photos by DAVID
Set 1
After All These Years
World Upon Your Shoulders
Tuna In The Brine
Luv Your Life
Paint Pastel Princess
Petrol And Chlorine
Across The Night
Ana's Song
Miss You Love
Steam Will Rise
Set 2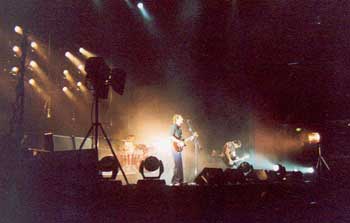 Emotion Sickness
Without You
Israels Son
Black Tangled Heart
Do You Feel The Same
The Door
Freak
Anthem
One Way Mule
Encore
Asylum
The Lever
Instrumental
The lighting, the atmosphere, the band, the crowd, the MUSIC, everything was perfect, although Daniel wouldnt agree as he continually had a look of annoyance due to technical difficulties (which were undetectable to the crowd) throughout the first set. He was pretty quiet throughout the first 5 songs, letting the show run its just cause, the addition of video screens was cool for some songs, but others it seems they just put miscellaneous almost windows-like animation. The first words of the night .. "Thankyou Wollongong .... If i had anything charismatic to say .... I would .. But er .. I cant think of anything .. So ill keep playing until i do."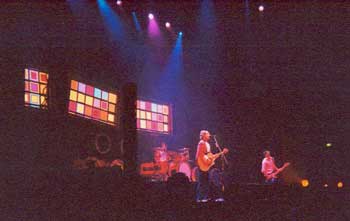 During end interlude of Across The Night, Daniel ditched the guitar and started bustin' some moves. After he had boogied around for a bit, he lifted his shirt up and began to rub his chest while his danced, and then he grabbed his "package" with the other. It was quite amusing, and it got the girls screaming, i looked around thought but it seemed to weird out most of the guys. At the end Daniel said "Wow it sounds like im playing to a colloseum of 60 000 people, these things in my ears, make it sound so loud. Its like a nintendo game. Oh like Julian has nintendo ears as well ... Even though we are having problems with them."
Before Steam Will Rise Daniel said "We've only played this song twice before live, so that means it will probably sound good for you guys without all the mistakes". This song was absolutely amazing live, the added keyboard parts to the booming bass and drum pattern added a whole new element to the song. The end was extended by about 5 mins with a long drum solo and guitar solo.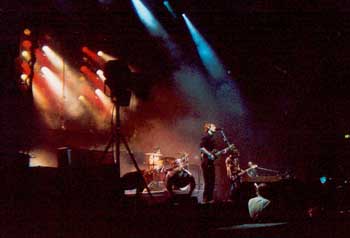 The band had come back to the second set, with the technical difficulties under wraps, and sporting new outfits. The ending to Emotion Sickness was also extended by a few mins as the little interlude/bridge part was played for longer, with some extra guitar licks. As soon as the bassline to Israels Son was out, everyone jumped up, we didnt have a mosh pit persae, but it was more of just everyone standing infront of their seats and doing a bit of "solo-moshing" / dancing. At the end of the song Daniel said "Yeh thats better, Now that all the technical difficulties are over .. We can FUCKING ROCK!, but not just yet .. this is a mellow song .. so sit relax . enjoy"
Black Tangled Heart was next and again it was amazing to actually hear this song live, so much emotion was put into it by all the band, especially Dan's singing towards the end, it gave me goosebumps.
"Ok this is a ... err ... Hang on .. <looks at setlist> .. Yeh this is a rocking song, so get up"
Daniel did the usual "Get the fuck up" during the intro part of the song. This song was changed substantially to accomodate about a 4min long guitar solo and groovy little guitar licks. Where Dan was dancing all over the stage strumming the guitar like a madman.
During Anthem the video screens were plastered with anti-war messages and at the end of the song daniel said "The war is pointless. Saddam is a fuckwit .. But then again so is Howard ... Silverchair are going to run for president .. president of america .. so we can make the world a better place like Wollongong .. except we would make the steelworks run only 100% of the time"
After One Way Mule had finished the band left the stage, and after a short while Daniels keyboard was brought back on, which automatically pointed towards Asylum. Once he finished, which i thought was a flawless and beautiful version of the song he said "That was really good .... if you dont count the mistakes. We're all about not counting mistakes, never count the mistakes .. "
"Ok this is going to be a 9min stoner prog rock version of one of the songs of the album ..."
The break into the lever, once they finish however and the lights go down the band start right back up again into an little instrumental number. It went on for ages including, little drum solos, guitar solos, and funky riffs. Daniel was dancing all over the stage and shaking his ass around. When you thought it was all over, they started up again, and did this a number of times for about 2 or 3 mins until finally they finished.
Quotations etc are from memory so are probably a bit sketchy ...
---
By TORI
A clever video montage with an anti war theme was played during Anthem for the Year 2000 in the second act of the Across the Night tour. With flash pictures of George Wubbya, Little Johnny Howard, Colon Powell, Donald Rumsfeld, George Bush Sr and other war notaries, the words from Bush Jr "I say Jump" and then Howard's "response", "I say how high" could well have applied to the 'chair and the audience last night. Daniel could have had us all jumping through the roof if that was what he wanted.
THIS SHOW ROCKED!!!!
And all I can say is, if it isn't filmed and put out on DVD then I'll be terribly sad. I want to see the show again and again and again. There were so many extraordinary moments, so many versions of songs I would kill to have a copy of, and so many self-effacing moments from Daniel I found my eyes welling up on more than one occasion.
The Across the Night Tour is magical. And silverchair are back and bigger and better than ever.
Act 1 showcased the more recent, melodic and orchestral wonders found on Neon Ballroom and Diorama. The show opened with the very healthy and happy looking Daniel playing After All These Years and singing like an angel. Ben and Chris came onto stage at the end of the song and the band launched into World Upon Your Shoulders. I thought at the time it was an odd choice to follow a ballad with another mellow song but as the band continued to play into the first Act it became apparent that both Acts would showcase the different styles of the chair. And if Act 1 was the more cruisy music then Act 2 was going to go off! Then Tuna in Brine was played to absolute perfection and I knew if I wasn't in heaven I was as close as I had ever been.
The set continued, from memory, with Luv Your Life (awesome), Paint Pastel Princess (still a crowd pleaser and Daniel's guitar work surpassed that of the Neon Ballroom tour - a feat I did not think was possible), Across the Night (which had the same impact it has on Diorama when you listen to it for the first time), Miss You Love (I had to call a friend and let her listen to it. As with the Neon Ballroom tour, this was the song that truly ripped my heart strings), Ana's Song (absolutely beautiful and as always, moving and drawing the crowd into Daniel's previous turmoil but becoming a celebration because of the bright and positive person he has since become) and then a ripper version of Steam Will Rise.
The lighting effects and the three screens on the stage were truly spectacular.
I worried that the crowd hadn't got into it much by the end of Act 1. Most people had sat through the entire set but then, most of the songs weren't the get off your arse and jump you bastards kind of tracks. And then Act 2 began and I didn't stop dancing til the lights came on and we were told to go home.
Act 2 also had the crowd eating out of Daniel's hand. In the first Act he commented the crowd reminded him of a Nintendo game!!! I thought the comparison was a little bit kind! But if Act 2 had to be compared to a computer came it would have to be whatever the latest kick butt X Box or PS2 game is because this crowd roared, sang and danced like an audience of 50,000 - not the 5,500 lucky enough to see the guys so early in the tour! Being treated to songs being played live for only the second time - and there were two - Steam will Rise and I can't remember the other just yet but it was fantastic (Luv your life perhaps?) - is truly a privilege. I want to see them at the end of the tour now. If they are flawless and slick now god only knows what they'll be like in London in June!
Emotion Sickness - man! What a brilliant song live. I loved it in the Neon Ballroom Tour - this time, if I could, I would have married it!!! Stuart on keyboards played Helfgott's original composition brilliantly and this was it, Act 2 was, without a doubt, going to raise the roof in the 'Gong!
I can't remember the order of the songs in the second Act but absolute highlights for me were Freak (always a brilliant live track and Daniel was hilarious towards the end swinging from his devilish and deep thrash voice to an angelic falsetto - it had me in stitches!), The Door (how can this song ever be beaten live? IT WENT OFF!!!), Without You (fantastic to hear it live and Daniel's voice was sublime throughout), Slave - this was the moment the crowd went wild!
I'd like to comment more on Chris and Ben but I hardly noticed them! I couldn't stop watching Daniel. He was enchanting and heaps of fun! And his bum dance at the end had me...., well...., I won't forget that sight for a long time!
One Way Mule was a great moment and the Greatest View proved to be another excellent live track and "I'm watching you watch over me and I've got, the greatest view from here" seemed pretty apt as I looked down from the highest point in the Entertainment Centre down onto the stage and that wicked band keeping me pumped for so long.
ENCORE
Asylum was brilliant. I have never seen it performed live before and can vaguely recall hearing it on Triple J only once or twice. If anyone has a copy please let me know where to get one. It confirms something I always knew, Daniel is not only an incredible talent - he is clearly not of this world either!! The guy is an angel and when he sang Asylum I would have taken off all my clothes and run naked through the crowd if he'd asked me to.
Last song, in Daniel's words, "a nine minute punk, stoner, thrash version" - well it was much more than that. It was a thrashy, rocking, psychedelic, yeah-baby, pass the bong dude, rock on some more, perfect ending to quite possibly the best concert I have EVER seen. The Lever impressed me on Diorama. Live - it is absolutely awesome.
I want to see it again.
If anyone is having doubts and would like to donate their tickets to a willing recipient, then look no further than me!
THE CHAIR ROCK
YOU'D BE A BLOODY IDIOT TO MISS THEM!
---
By DAVID
Well after attending my first Silverchair concert I can honestly say that I now understand what all the fuss is about. Are they the greatest band in Australia?? Without doubt they are at the moment.

The show was slickly crafted and thoroughly entertaining form start to finish. Daniel seemed to take a while to get into it which he later explained as audio issues in his earpiece. He said it sounded like a nintendo soundtrack in his ear so was struggling to make sure it all sounded great, which to the audiences delight it did. Daniels' voice was strong and clear throughout the show and my highlights were Luv Your Life and the Greatest View from Diorama although the whole thing was great. Well worth the drive from Sydney to see this show :)

Show went for about two and a half hours. Was just about sold out. Hope my photos turn out ok!