22-03-2003
Brisbane Convention Centre - Brisbane, Australia
By ROSANNA
All photos by LOUISE
Last night was undoubtably the most amazing nite of my life.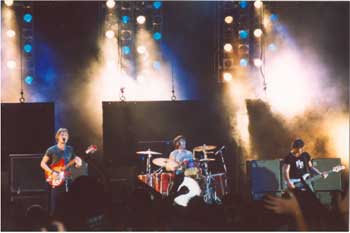 First Brisbane show of the Across the Night tour, and damn, it was so amazing it was undescribable. The support band was pretty ordinary, but I guess that just made The Chair seem even more amazing.
They started off their first act with After All These Years. It was just Daniel and a keyboard centre stage, one of the most amazing things I have ever seen. A perfect choice. The set went on, fantastic as anything and they played new and old stuff with some of the most awesome visuals I have seen. But the end of act 1 was spectacular. Steam Will Rise. This song sent shivers up my spine. An excellent way to finish the first half.
After a rather nerve racking interval, they opened act 2 with Emotion Sickness. So full of guts this song just took your whole body with it.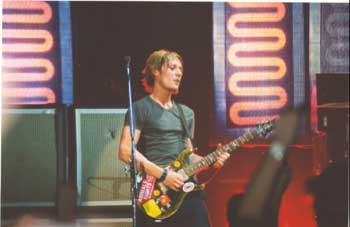 By about the third song into the set their was a well defined mosh, and Daniel exclaimed, "so much for selected seating!". He then thanked us for standing up without being told. "Thanks on one hand and fuck on the other". The Door. This song just made the place explode. If you only knew one Silverchair song this would be it. Freak, Anthem For The Year 2000 and One Way Mule. Could we ask for a better finish? Well, we didnt have to.
After the roar of the crowd "Sil-ver-chair, Sil-ver-chair, Sil-ver-chair!!!!!!" they came back to us. Just Daniel and his keyboard, and he played one of the most beautiful songs, Asylum. As I sat there on the back of someone elses chair singing along, I could see two types of people emerge in the crowd. Those who are the "biggest fans in the world" and those who have one or two cds and think they rock. How could I tell? The die hard fans were singing along but everyone else was standing in silence with the thought that it was a new song.
The Lever, the perfect rock song to end the night. Lastly, they played around for a while, thanked us, thanked each other and with the last beat of the music... left us.
Without a doubt, the most magical thing I have ever experienced.
---
By MATTHEW
Last night I seen the first show of the Across The Night Tour, and words cannot comprehend how much silverchair went off. As I type this, silverchair will be playing their second show, and I have just flown home, so I cannot be there, though I would give all I have.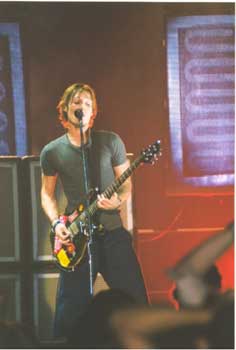 Sleepy Jackson filled time before the main event, they had one or two decent songs, but otherwise were quite average. They got a big cheer when they announced that the next song would be their last. Then there was an interlude, the excitement was building. After the interlude, the lights went out, and Across The Night started playing over the PA, and the curtains opened to reveal three picture frames. The middle frame simply said Act 1.

Daniel soon accompanied the piano in the middle of the stage, and began After All These Years. It was perfect, seamless, and crisp. After this, Chris and Ben joined the stage, and began World Upon Your Shoulders. I can't remember much of this song, there was a security guard blocking my view for over 3 minutes. After telling, and even hitting his shoulder, he didn't budge (you know who you are, not happy!). Daniel grabbed his acoustic for an awesome rendition of Tuna In The Brine, then Luv Your Life.

After these couple, Daniel swapped his acoustic for his black Les Paul, and I knew what this meant: Paint Pastel Princess. This song is so awesome, it should have been after the interlude. After this, Daniel started playing something unfamiliar, but any true fan knew; Petrol and Chlorine. This was one of the first times for it ever to be shared live, it is a cool feeling to have been there. It was flawless, Daniel playing the sitar parts on his guitar (although they were a bit loud, a bit more subtle would have sounded better), but it was awesome.

All through the set, Daniel spoke between songs, quite an amusing fellow. He congatulated Brisbane on what a good Expo they had in '88. He realised he had the wrong guitar for the next song, and assured us that we would have missed one 'fucking great song'. After correcting his choice of guitar, they began Across The Night, which was a 'fucking great song'. I loved this one, about half way through, he took off his guitar, preferring to dance like a little angel. It was hilarious, I am fairly sure he was paying himself out a bit; it was his usual hand action times 10.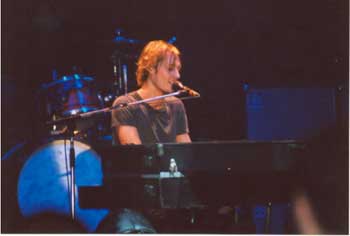 Daniel now opted for his SG, which usually means Miss You Love or Ana's Song... they gave us both!! These were played much the same as the Rio set, it was awesome. After that, Daniel said that they hadn't played the next song, and that they had changed it to make it sound "alright", they started the big bass intro of Steam Will Rise. I am not sure what they changed though, I can usually pick anything up, but it sounded like the album version to me.

This concluded the first set. So my friend and I made friends with the security at side stage, who let us get up close and personal with daniels guitars. I got like, 1 foot from them, it was unreal. Then he let us wait there until they returned from sidestage. We were right next to the band as they came back on, and my friend got a high 5 from Chris, lucky bugger. They entered the more familiar stage setup from the Neon Ballroom days. But after this the night is a bit of a blur, this won't be the right order, but I will try.

The first song after the interlude was Emotion Sickness (I think). This song (it was a hard decision that needed to be made) was my favourite of the entire set. It was the best I have ever heard it. Not only that, the lights were awesome, they were bright for the first time in the night, you could see them really clearly.

I am fairly sure Without You was after Emotion Sickness, it was a crowd pleaser like usual. It would have to be my pick from the new album.

The next song I remember (this was the turning point of the night) was Slave. As soon as it began, people shot from their seats into a frenzy. The organisers were naive to think they could keep us restrained. Security lost all hope when Daniel told us that the words "Allocated Seating mean nothing from now on". I am sure this impressed the BCEC people. But this got security off our backs, and meant I ended up front row centre. The perfect place to be for Black Tangled Heart, also another new one to the stage. The rest is an even bigger blur now.

I will just type the songs Iremember and this applies to all of them: This song went off even more than the song before it.

One Way Mule
Freak
The Door
Anthem for the year 2000

I think about now he came out with his piano again and played Asylum, which let us gain a bit more energy. It is a bloody good song, he has to be the best songwriter I know of. With our energy rebuilt, the encore went something like this:

The Greatest View
The Lever (I am pretty sure this was last)

The Lever was damn good, it was lengthened at the end. It was more like a jam than a song, it went off. But then they left, the lights turned on and we had to try and remember what we just saw (which is really hard). I didn't see any video camera's at the show at all. I can't understand it, surely they wanted it filmed, I know I wanna see it again.

If you weren't there, you missed out on something huge (seriously huge, it went for like 3 hours.)
---
By DANIEL
Ahh, the day was finally here.... I'd been counting down for 119 days, and now FINALLY, it was time for the first silverchair show of the Across The Night tour.
After waiting at the Brisbane Convention Centre for 3 hours and sitting through the Sleepy Jacksons set, it was finally time.
The lights dimmed. Daniel Johns (my idol) walked onstage (my first crying moment of the night). I expected the band to launch into Emotion Sickness or maybe Across The Night. But I was wrong. The familiar sounds of After All These Years began, and Daniel sang beautifully.
After the song finished, Ben and Chris entered the stage, and silverchair launched into a perfect version of World Upon Your Shoulders.
Daniel told us to "keep it real", and complimented us on our Mexican Wave skills, and then the show went on.
I don't remember the order of the songs perfectly, but I do remember that soon after that came Tuna In The Brine (amazing), Luv Your Life and Paint Pastel Princess were performed. The orchestral sounds of Tuna In The Brine and Luv Your Life sounded perfect....good work on reproducing the Van Dyke Parks orchestrations.
Daniel couldn't think of anything to say....so decided to congratulate us on 1988's Expo....thanks for that, Daniel :).
The band launched into a beautiful rendition of "Ana's Song (Open Fire)"....and then I heard it. The sounds of Daniel counting in "Miss You Love". And that was "crying moment #2" for me. For me, Miss You Love was the song of the night....it was beautiful.
Daniel was handed the wrong guitar by one of his roadies. He walked to the microphone and said to us "They handed me the wrong guitar....you almost missed out on a fucking great song. Narr, it's pretty shit actually." And then he launched into Across The Night, getting rid of his guitar towards the end of the song, and groping himself and completing several hip thrusts during the song....very sexy :P.
An awesome version of Petrol And Chlorine was played amazingly (I'm not sure if that was before or after Across The Night). It fit in perfectly. The final song of the first set was "Steam Will Rise"...and a fucking great rendition of it at that. The perfectness (that's not a word, but you know what I mean) of it made me almost want to cry.
The first set ended, and I sat through what seemed like the longest 10 minutes of my life. And then the lights once again dimmed.
The explosive sounds of Emotion Sickness filled the room. As always, Daniel sung beautifully and Chris and Ben played amazingly.
Without You was my crying moment #3, as it is a song I dedicated to one of my best friends who committed suicide (RIP Dean). The live version of Without You was absolutely amazing.
As soon as Slave started up, the crowd went insane. Everyone jumped from their seats and made their way to the front. The quieter sounds of Across The Night and Tuna In The Brine were forgotten, as silverchair rocked out "Freak Show" style, playing a kickass version of Slave.
Again, not too sure of the order, but an awesome version of Do You Feel The Same sent shivers down my spine. Black Tangled Heart was also amazing (you'd never know they'd never played it live before, it was perfect).
Daniel commented on the fact he had nothing to say, and was going to ask us to stand up, but we'd already done it :).
Daniel screamed "are you ready to fucking rock?" and launched into a pounding version of The Door. The crowd went wild.
The crowd again went off when the intro to The Greatest View began, I don't think I've seen that much head banging in my life :).
No song got a better reception, however, than Freak. Every single person in the room was screaming as soon as we saw the heaters from the Freak video on the screen. Daniel performed the song in true Daniel fashion.
Anthem For The Year 2000 stomped in next. Again, an amazing performance. One Way Mule, a song I had been waiting for all night, then began, rocking the house even more (I swear he looked at me and smiled at me during that song....sshhh, he did!).
The band left the stage, and the Brisbane fans screamed "Encore!" and "silverchair"....and then Daniel's electric piano was once again wheeled onstage. He gave us a wave, and said "Hi. This is a b-side...some of you will know it, some of you won't, but that's the way the cookie crumbles."
My best friend kept saying "what song is this?" and I said to her "hmmm...I think it'll be Asylum." And I was right. Another beautiful song, it's impossible to explain.
If that wasn't enough, the band then launched into a huge rendition of The Lever, which the crowd loved (everybody was headbanging something chronic).
The band ended with a fairly long instrumental outro, which fucking rocked (I reckon it'd make a cool song with lyrics in it....next album maybe?).
And that was it....after counting down for 119 days, silverchair were gone. But Daniel gave me a glimmer of hope, when he said at the end "Thank you for sticking with us, I could've just died or something, but you still came. We'll be back."
The only way I can describe that show is amazing. The best night of my life :). silverchair are DEFINATELY back.
---
By HAYLEY
Last night I went to silverchair's first concert back after Daniel's illness - it was awesome!!!! This was my 5th concert (6th tonight) and the first since they last came to Brisbane in August 1999.
It was held at the Brisbane Convention Centre, the last time I was here it was for my graduation to it was a bit bizarre to see silverchair on the same stage that I collected my certificate! Sleepy Jackson was the support and they were pretty good.
After an interval of 10 minutes consisting of a mexican wave that went for a little while, an instrumental version of "Across the Night" came on, and the curtain opened. There were three picture frames in the air with screens attached, and the middle one had 'Act One' on it from the accompanying videoclip. Daniel came on stage by himself and played "After All These Years" on the piano. The first half was going to be some of their 'softer' songs with the second half consisting of their more rocking song. After the first song, Ben and Chris joined the stage, and they broke into "World Upon Your Shoulders", with the screens behind them displaying videoshots of earth from space, until the lyrics "Big and violent" when it turned into animated shots of ice caps melting and volcanoes. After this song came Tuna in the Brine (fabulous), then Luv Your Life which got the crowd cheering. Paint Pastel Princess followed and I began to wonder why there was allocated seating, even though everyone was sitting down, this was hardly a quiet set! Then came my highlight of the night - Petrol and Chlorine. The last time silverchair were here, Daniel came out in the encore and played it solo and mucked up the words, but this time it was brilliant, with the Indian instruments coming out of the keyboard and Ben and Chris joining in - it rocked!!! After this, Daniel said thanks, commenting on how his father came here for Expo '88 and loved it (I wonder whether Daniel knows the Convention Centre is on the former site of Expo) He also said that he saw the mexican wave before they came on, then he put on a guitar and was about to start the next song before he realised he had the wrong guitar! He grabbed his acoustic guitar and launched into "Across the Night", with Guy Pearce on the screen behind the band. At the halfway stage of the song, Daniel took his guitar off and just sang with some impressive hand moves!. Then came two crowd favourites - "Ana's Song" and "Miss You Love". After this, Daniel said that they had never played the next song before and they had reworked it and hopefully it would sound alright - "Steam Will Rise". At the end of the song, Daniel and Chris walked off the stage leaving Ben the centre of attention as he finished his drumming (which I'm sure he enjoyed!).
The intermission lasted about 15 minutes, I noticed John Watson in the crowd talking to a friend but then the lights came down and the curtain reopened to a different set - the 3 screens had the frames taken off and the lights were different and silverchair were ready to get into their second set with "Emotion Sickness". Then they played "Slave" and all hell broke loose!! Everyone was out of their seats and rushing to the centre of the hall. Security guards and Convention Centre officials were trying to get everyone back to their seats, or off their seats in my case but no-one was listening and a makeshift moshpit took place. After the song Daniel commented on the supposedly allocated seating and said he didn't know what that meant and it was now defunct. He also said "I was going to make you stand up later but you've already done it! So on one hand - good, on the other -fuck!" He also said that the next song was another that they had never played before - "Black Tangled Heart", then "Without You", "Do You Feel the Same" followed by "The Door". Next Daniel said that management has asked that everyone return to their seats, but he wasn't saying it like he meant it and no one was going to take any notice anyway!He really appreciated that everyone at the concert supported them during their break because he was really sick and (jokingly) "could've died - thankyou, thankyou, thanyou, bow" When he said bow he did a little one. Then they went into "The Greatest View" and during the chorus everyone was pointing at silverchair and singing "I'm watching you watch over me..." and the crowd surfing started. Next was "Anthem for the Year 2000", behind the screens had shots of John Howard, Bush snr and jnr, Hussien the bombs that were dropped in the last couple of days and other anti-war pictures, with words such as 'who controls the media?' and 'you are a product of your television'. After this the screens had the cold bars from the Freak filmclip and when the started playing the songs it went to hot. They then played their last song of the set "One Way Mule".
The encore came a couple of minutes later, Daniel came out and said "this next song is a B-side, so some of you will know if, some won't but that's the way the cookie crumbles", then played "Asylum" on the piano. The other two joined Daniel after, while Daniel was saying his thanks and they launched into "The Lever". By this time the security had gotten most of the people to clear the stairs and made everyone who were standing on their seats to get off them, which was a little to late... then after this they played an Outro instrumental, which was fantastic.
This was by far the best silverchair concert I've been to and (barring the Convention Centre banning the show!) I can't wait for tonight's show, I'm not going to mind if they play the same set again - it was fabulous.
---
By LOUISE
What an amazing show. As usual, a good support band gets ignored, that's just the way it is. The first silverchair set was laid-back, instrumental, and sweet as! Mostly Diorama stuff- after all these years, luv your life, tuna in the brine, world upon your shoulders, and some older songs like paint pastel princess, ana's song, miss you love, aswell as a few songs that the guys had never played live before, petrol and chlorine and steam will rise.
After a 10 minute intermission which seemed like an hour, the curtains were drawn for the 2nd time to reveal a new set. Emotion sickness was first up, followed by Slave (I think), the crowd had obviously had enough of the seats, and a few hundred people charged down the front and formed a light moshpit, much to the dismay of the security. But how the f*** are u meant to listen to the door, freak, and the greatest view without jumping? After some more songs that included without you, do u feel the same, black tangled heart, and one way mule, there was another quick break followed by a kick ass encore. First just Daniel and a piano doing Asylum, then a hella good extended version of the lever.
Definetly the best thing I've ever seen and heard!