03-07-2007
Silverchair - Young Modern (Eleven)
(The Tripwire)
Silverchair
Young Modern (Eleven)
By The Tripwire
http://www.thetripwire.com/reviews/2007/7/3/young-modern
Release Date: 07.24.07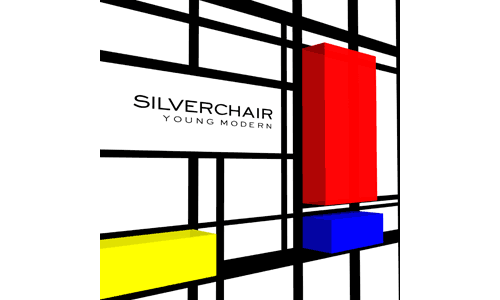 "Dude, Frogstomp. What happened?" Or so the anecdote goes, according to Daniel Johns. "Heaps," says the lead singer, "heaps happened."

Indeed, heaps has happened since the 1995 release of Frogstomp, an album that saw three 15 year-old Aussie's catapult to major success not only in their homeland but in the US, as well. What was at the time basically a carbon copy of most grunge acts around (namely Pearl Jam), Frogstomp gave the lads a certifiable start to a career, as well as an album to receive constant comparisons to for the rest of their lives. Well let me get it out of the way then, as I am sure most of your knowledge is limited to that album... Young Modern sounds nothing like Frogstomp.

I've received a lot guff over the years with regards to my overall fanaticism for Silverchair, which I never really understood. What's the matter, you don't have a band that you liked in Junior High, that you still like now? Don't tell me you hate Ace of Base, because the second I start humming "The Sign" I know you'll jump on it. Here's the thing about Silverchair... they were fifteen when they put out Frogstomp. If you can be held accountable today for your actions at fifteen, then I'm sorry Mrs. McClung, for making fun of your hideous mustache in front of Algebra class.

Okay, so we're past the justification point. Since Frogstomp, the lads have managed to release four more albums, each different from the last, and each encapsulating the state of mind of person figuring out how to live life. They've also racked up huge commercial success in their homeland, breaking release records and achieving celebrity status of the likes of Pitt & Jolie (in Australia). Side projects have been released to moderate success in the UK and Johns got married to the smoking hot chick that sang, "Torn." Like I said, heaps happened.

This brings us to the summer of '07, and the impending release of the new Silverchair album, Young Modern. Being the fan that I am, this has been on my radar for the last year or so, but to most here in the States it comes as a surprise. The new sound of the album may also come as a surprise then, because it's completely new, and it's completely pop.

Enlisting the help of past favored producer, Nick Launay and recent friends Paul Mac and Van Dyke Parks (U2, Beach Boys), the boys from Silverchair are primed for another shot at US charts with an album that is pretty solid in its pop stance, but still has enough rock to keep your ears perked. Side A to this album is strong, really strong, and really catchy, too. Album opener, "Young Modern Station" is a heavy disco rock explosion. Johns' groovy guitar work matched with Ben Gilles' fevered drum skills makes your hips shake. Lyrically it's a great start to the long awaited album, giving you a little insight to their newest mindset. "Does it make you cry / When I make you feel so far away," oozes the front man, emphasizing the expectation and celebrity that has come along with their success.

"Straight Lines," the first single, is sort of like the Aussie version of a Coldplay tune at first, but once the chorus hits you'll be lost in its tune forever. The melody is so addictive that on a recent vacation it's all I sang for over a week. The song is simple, too. It's also happy, very happy. This is the good thing about this new Silverchair, joy and positivity replaces what once was angst. It follows the pop formula and the result is a chugging track of addiction, in much the same way as the second single, "Reflections Of A Sound" does. Once you get past the cheesiness of the opening bars, you'll revel in the Beatle-like pop glory. These tracks make you want to sing along.

Rounding out Side A is Johns' attempt at Abbey Road Side B - "Those Thieving Birds (Part 1)/Strange Behaviour/Those Thieving Birds (Part 2)." Its catchy pop tunes kick in around two minutes in and your head is sent bobbing from side to side through a sunny meadow. Johns' lyrics morph themselves to fit the melodies and the work that Van Dyke Parks does to uphold the mood is immaculate. This really feels like a walk across Regents Park on a Saturday afternoon.

The second half of the album is still strong, but not quite as strong as the first half. Each song unintentionally meshes together as one with a few standout moments in each track. "The Man Who Knew Too Much" and "Mindreader" are pretty catchy (evoking Midnight Oil and latter day Rolling Stones), and "Low" seems like an outright tribute to George Harrison.

In the end, the real success of Young Modern can be attributed to its peripheral members. Paul Mac plays keys on every track, and four of the best tracks on the album were co-written with Julian Hamilton (The Presets). The biggest help on the entire album however, is Van Dyke Parks, his work being a miraculous Godsend. His presence can be felt on many of the tracks, giving them a subtle brightness or an air of happiness. The one track that benefits most from his aid is "If You Keep Losing Sleep," the oddest record of the album, which coincidently is also my favorite. It's an eerie track that bounces from delirium to deep sleep, from daydreamer to genius. It's Parks' orchestral arrangements that guide the song from odd pop ballad into the windy world of fantasy, as the strings and flutes turn it into a flight down a dark cobblestone alleyway and up into the cloudy night sky. The inner monologue of Daniel Johns is also put on full display lyrically, as he rants about tombstone personification and chimney sweeps, this lyrical whimsy just part of his allure.

If you thought Silverchair was a band past their prime, think again and give Young Modern a chance. As a continued fan I can honestly say that this album is their best to date (followed closely by 02's Diorama). As a music critic I can honestly say that this album is worth your time. It's bright, it's happy, it's catchy, and it's thoroughly enjoyable. There's a handful of US dates they're playing this summer, as well as a spot at this year's Lollapalooza to look forward to as well.