19-03-2003
Tour Rehearsal - Newcastle, Australia
By BEAU DAVIS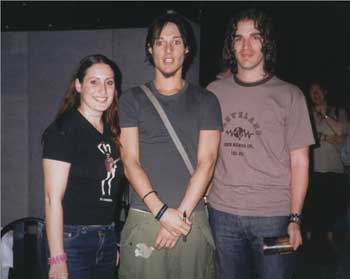 Our silverchair adventure began at 8am when we were waiting out the front of our hotel, ready to be picked up in the triple j torago. louie and rosie arrived and we all jumped in. there were 6 fans..... renae, bree, shana, michael, his cousin and myself.
the drive to newcastle took about 2 hours. during that time, rosie was asking us questions about silverchair, trying to scam some gossip. there was a live cross from the breakfast show with adam and will and we had to sing a song and scream and call out. it was pretty funny. apparently, the rehearsal got mentioned quite a few times throughout the day
we got to the newcastle entertainment centre at about 10:30am and were quickly ushered into the little catering area by bailey. it was pretty unreal to think that in about 30 minutes, we would be watching silverchair doing a rehearsal. we could only see a bit of the stage area. the crew were still constructing the set. from what we could see though, there were red curtains with bits of gold around the place.
ben and chris arrived but daniel was running a little late. this meant that the rehearsal was behind schedule. we were introduced to john watson and melissa chenery. john started telling us this story about he followed bruce springsteen to some remote location to see him play and how they were going to do it again, decades later. this filled in a little time. rosie then interviewed each of us, asking us about our silverchair collections and if we were seeing them on the tour and things like that.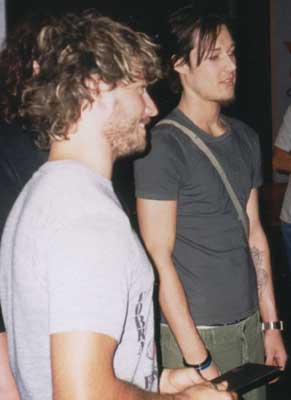 not much after, daniel arrived and the band were brought into the catering area and we all got to introduce ourselves to them and get some stuff signed. because the rehearsal was behind schedule, we didnt get a lot of time to speak to the band. we got some group photos with the 6 fans and the 3 boys and rosie hovered around trying to capture bits and pieces of conversations. rosie was telling the guys who had won which parts of the triple j competitions and ben goes "that was you that did the spa song, that was very funny". i was pretty happy with that :)
one thing to note is that all of the guys looked really healthy and seemed pretty happy to be there. i saw daniel's new tatoo on his arm. renae asked him what it was and i believe he said it was a sea dragon. it is a very intricate design. ben had a led zep (the 3 circles) tatoo on the back of his neck and his james brown tat is pretty huge. chris' shaggy hair had tips in it and i thought it looked pretty cool.
we went and sat down about half way between the mixing desk and the stage. there wasnt actually a stage, just a drum rise. i think it was so the crew didnt have to climb up heaps of scaffolding to make adjustments to the set. i couldnt believe we were sitting on the floor of this massive entertainment centre and silverchair were standing there in front of us, playing for 6 fans. i have always talked about having enough money to pay silverchair to perform for me and i guess, this was basically it.
the entertainment centre was totally black. all of the lights were off. the intro music started and then the spotlight was on daniel. he was sitting at a piano. it looked as if he was doing hand movements from the across the night film clip. it was kind of surreal to see daniel playing a piano. after all these years is so beautiful and elegant live. daniel's voice was exceptional. i could instantly tell that this performance, albeit a rehearsal, would definitely be able to live up to everyone's expectations for silverchair reproducing diorama live. the song ended and some instrumental keyboard music was playing. i found it quite funny to only hear about 10 people clapping after a song, rather than the usual 16000 cheers. up above ben at the back of the curtains were three large picture frames, similar to the inside of the diorama booklet. each picture frame was a tv screen. there were images of the earth and other bits and pieces floating on the screen.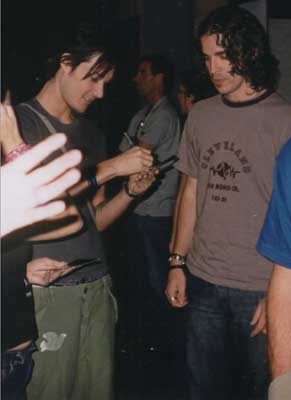 world upon your shoulders was up next. nothing but positive comments for this song as well. then what we had all been waiting for...... tuna in the brine. daniel strapped on an acoustic guitar and began playing. this song is beautifully amazing live. its very powerful and emotive. the keyboards sounded great, playing their multiple instruments. i think a few tears were shed during this song and my goosebumps grew goosebumps. julian's backing vocals complimented daniel's very nicely.
it was so great to be hearing the new songs. luv your life was up next and im pretty sure daniel was using the acoustic again for that. daniel thanked us for coming and said it was great to be there and he was looking forward to playing more songs. following luv your life was paint pastel princess which apparently is now spelt pastell. i noticed that there was additional instrumentation in this song which added to my enjoyment.
i had heard petrol and chlorine live before. only on a bootleg and the quality of the audio didnt do the song any favours. still, daniel had said they didnt play it too well. i absolutely loved hearing this song live. its a great song just to get lost to while you are listening and it translates extremely well. daniel asked how we were doing today and said he hoped we were doing well. he stated that it was the only show that hadnt sold out :)
across the night started and then stopped. this was extremely strange to see. im pretty sure julian missed his queue at the start of the song. it sounded exactly like the cd, complete with all of the instruments, bringing the soundtrack sound and feeling to life. i remember thinking that the song sounded so thick and vibrant. there is a bit of a drum fill or something about half way through the song where there is a pause. ben's drums were sounding very awesome at this point.
the regulars to silverchair's set, ana's song and miss you love were next. but not before daniel saying that "this is fucking weird" and asking if we were enjoying the show. he also let us know that they do a reggae version of ana's song. i was so hoping they would do it for us but he only did a little bit at the start.
one more song before the end of the first act. at first, i didnt recognise it. it was eerily beautiful. it was steam will rise. i had been hoping they would play this song and it was incredible. before the rehearsal, i started thinking that daniel might want to play every song that the band had recorded on an album live, at least once. hearing steam will rise was a pretty positive indication. i think at this point, i started having trouble taking everything in. being there, so close, so intimate, hearing previously unplayed songs for the first time. i remember thinking that it sounded different to the album. it was more rockier and i think there were some cool effects on the keyboard as well.
the second act began with another instrumental keyboard/piano track as an introduction. emotion sickness started and it was very powerful. the drums and guitar seemed a lot more 'in your face' than they had on previous tours. i still love seeing this song live. how could you possibly get tired of it. 4 years on and this song is still very intense live. for the second set, the three tv screens were lowered and were used to great effect, being lit up with white or yellow light and contrasting the dark when all of the lights were off.
without you was next and the diorama lighting was working hard. on the stage, there were columns of coloured light bulbs making little rainbow towers. there were also rainbow lights from the ceiling that came down over ben and then to daniel and chris then into what would be the crowd. there were two columns, one on each side of ben and then about another 4 at the side and front of the stage. it looked so great and was really well timed with without you.
and oldie but a goody up next in slave. this was sounding very heavy and sludgy. the sound seemed to go up a couple of notches. the boys did the extended pause version like they have been doing for slave and freak before but it seemed to go a little longer. daniel changed the end guitar bit and added some extra fills which was pretty cool. a little bit more of extended pausing finished it off.
what was played next was a complete surprise. black tangled heart started. again, it was amazing. i cant believe we are being treated to so many of the more beautiful silverchair tracks. im so glad we were able to sit and watch, rather than have to put up with people crowd surfing and rushing the mosh. the piano/keyboards sounded so great. i probably should mention that the two keyboards were moved to each side of stage for act 2 where in act 1, they were up the back to the right like on the big day out tour. another neon ballroom brother, do you feel the same was next. i have heard this before but i wasnt complaining. the guitar solo sounded so awesome.
the tempo sped up a little and the volume increased for the greatest view. for some reason, this song seems so fresh to me again. im not sure what it is but when i listen to it, it still sounds so new. chris' bass sounded really good in this song. apparently daniel made a mistake but i didnt pick it.
daniel asked if he could get a hallelujah. unfortunately, i dont think any of us or him were going to be screaming it out at this concert hehe. the door was next. it featured a cool solo and the rest you pretty much know about this song. daniel did do the falsetto "alright" and "might" for the "Let me know if it's alright, Let me know if you just might" lines. freak came up, all slowed down and extended. i still love this song, there is something about it. at the point where the band stops playing and daniel sings, getting the crowd to follow with him, daniel called out freak really weird with a lot of delay on the vocals and then the band continued on. during this song, the TV sets had vision of the old 'freak film clip' heaters so it looked like they were hanging there. it was really cool! the set was coming close to an end but before it would finish, anthem was up next.
at about this point, chris broke a bass string and after that, there seemed to be some complications with his bass or the amp. silverchair broke into one way mule. it was obvious we were now well into the heavier part of the concert. i love the drum fill in the outro where everything speeds up and gets really heavy. they burst into lever. this was sounding great, with its heavy sludgy guitar riffs. just when we thought that was the end and were wondering if we would need to call out for an enchore, the boys broke out into another song. it had a similar sound to the lever, a little more jazzy with some swing to it. it was an instrumental jam session and the guys seemed to really enjoy playing it. towards the end of the song, there is an amazing part where the band stops and starts and builds up and stops and starts. all of the lights went off and then back on for every hit of the drum. ben had to pound his drum then quickly grab his cymbals then repeat the same with more beats. its hard to describe but make sure you do not leave the concert early :)