Notice
: Undefined index: image_link in
/home/chairpag/public_html/app/views/headlines/current.thtml
on line
19
22-05-2015
After 8 years of silence Daniel Johns finally releases his new album today … TALK.
It's Triple J's Album Of The Week and the first reviews are glowing. Here's a quick taste of what the critics are saying.
"Talk is a radical departure and yet it isn't; it's not at all like him and yet it is exactly him. He's burnt down the house but he's built one that is ready for occupation. **** Bernard Zuel, SMH Spectrum
"This record is remarkable. It's really terrific. I think a lot of people will be turned on by this body of work". Richard Kingsmill, triple j
"His solo debut sees one of our biggest rock stars transcending rock. It's also up with his finest work. What's in Johns' head right now is a dizzying nocturnal mix of electronics, vintage Prince, sould, bears and falsetto." – Cameron Adams, ****Herald Sun
"Johns' chameleon tendencies weave a shimmering trail..." **** The Music
"Talk is an exciting and rare example of an artist refusing to be shackled by their past" – Rolling Stone
"Extremely impressive". Yahoo Music
But why not make up your own mind? You can listen to TALK here. TALK will be launched with two special shows at the Sydney Opera House Concert Hall on May 28 and 29 as part of the Vivid Festival.
Today Daniel also reveals the video for his new single "Cool On Fire". Directed by Josh Logue (Empire of the Sun, Hilltop Hoods) the film captures Daniel as never seen before.
Says Josh Logue of the video: "After hearing the song 'Cool on Fire' I was compelled to create a video that exposed Daniel both visually and metaphorically. Daniel delivered an enigmatic yet truthful performance adding the essential ingredient to the music video. Daniel not only understands musically, but also visually how to make timeless, great art."
Click on the picture below to view the video: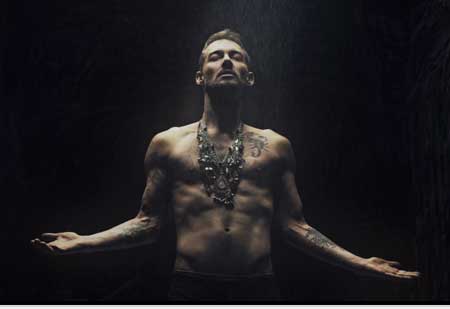 DANIEL JOHNS – NEW ALBUM "TALK" – AVAILABLE HERE NOW
Website: http://danieljohns.com Facebook: https://facebook.com/DanielJohnsHQ
Twitter: https://twitter.com/DanielJohnsHQ Instagram: http://instagram.com/DanielJohnsHQ
Soundcloud: https://soundcloud.com/DanielJohnsHQ
Youtube: http://youtube.com/c/DanielJohns