Notice
: Undefined index: image_link in
/home/chairpag/public_html/app/views/headlines/current.thtml
on line
19
23-10-2007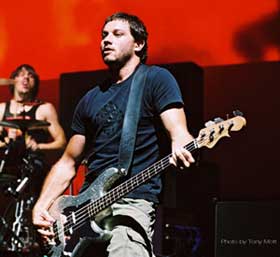 This is a once in a lifetime opportunity to own the personally signed Silver Sparkle G&L Bass Guitar used by Chris Joannou Bass guitarist for Silverchair. This is his personal guitar that Chris has played for the past 9 years when touring overseas. He also played this guitar at all the concerts while touring Australia during the "Across the Great Divide" tour.

Chris is the patron of "Nathans Bequest" a charity set up by the Rotary Club of Sydney CBD to provide funds for research into youth suicide and to raise awareness of mental health issues experienced by young adults in our community. Youth suicide is a major killer of young people in Australia and funds are urgently needed to assist organisations that help young adults suffering mental illness and to provide funds for research.

Chris has also organised a framed "Across the Great Divide" tour poster including 2 CD covers signed by all members of Silverchair and Powderfinger (see image in left column).
Bids for both of these items can be placed by accessing the "Silverchair CBD Rotary" site on Ebay.
BE AWARE this Ebay auction will close on the 1st November, 2007 at 10.00am (AEST) so get your bids in early and regularly monitor the site for bid updates.
Place a bid now and help us conquer this disease.