18-11-2007
2 bands, 34 shows, 26 towns, 24,467 kilometres, 20 arenas, 13 big top shows, 1 amphitheatre, 65 crew, 1,155 security, 5 stadium trucks, 9 outdoor trucks, 1,050 portaloos and most importantly over 220,000 screaming fans … this was the Across The Great Divide tour!

After embarking on the biggest concert tour this country has seen in a decade - across, around and ALL over Australia from Darwin to Ballarat to Toowoomba to Tasmania - the tour's final show is coming to your loungeroom this Christmas with the release of a deluxe triple DVD.

This special three disc release is strictly a limited edition and will not be manufactured again after the 2007 holiday season. Fans can pre order the DVD from 12 noon (AEST), Monday, 19 November from www.acrossthegreatdivide.com.au/shop to receive a FREE Silverchair or Powderfinger T Shirt (stocks are strictly limited). NOTE - Stocks of the free Silverchair t-shirts have now SOLD OUT. You can still get a free Powderfinger t-shirt if you want one...

The first two discs of the Across the Great Divide Tour DVD feature full length live sets from both bands, including the duet 'Substitute', recorded at Rod Laver Arena in Melbourne on 18 and 19 September, 2007. Both discs have been mixed in the U.S. in 5.1 surround sound by the people who have each mixed studio albums for these bands.

The team behind the filming, PVC LIVE, have created concert specials for the likes of U2, Radiohead and Red Hot Chili Peppers. Their coverage of the Melbourne show featured an extraordinary 24 cameras so these concert DVD's are on a whole new scale for Australian bands … just like the tour itself!

The third disc of this limited edition set is a candid 90 minute documentary film featuring all the hilarious action behind the scenes as this special tour makes its way Across the Great Divide.

Your Access All Areas pass is a 3 disc limited edition package which also includes a colour booklet featuring candid backstage shots. This is a must for every music fan and anyone that wants to relive this extraordinary tour.


16-11-2007
After sweeping the 2007 ARIA Awards Silverchair have just launched their third American tour for this year. With many dates already sold out, Silverchair's current U.S resurgence is going from strength to strength.

Australia's ARIA Award winning "highest selling" and "best" single of 2007 - "Straight Lines" - is still in rotation at nearly all of the country's biggest modern rock radio stations and is climbing the charts at the AAA and HotAC formats.

Last weekend the clip for the song has re-entered the Top 5 most requested clips on the coveted and ever popular music channel VH1 – notching up its third month near the top of that channel's weekly countdown.
Please vote here: www.vh1.com/shows/series/top_20_countdown/vote.jhtml

Meanwhile the lead single from 2002's Diorama - "The Greatest View" - has also been picked up by tastemaker stations across America. The song received little Stateside exposure at the time of its initial release due largely to Daniel Johns' ill health preventing any touring or promotion at the time. However, in the wake of "Straight Lines" strong U.S. showing it seems many in the media are seizing the chance to revisit this track.

Young Modern recently skyrocketed back up the ARIA charts to #10 after Silverchair scooped the pool at the ARIA's. In stores now the repackaged limited edition album includes a bonus DVD featuring "The Making Of Young Modern" documentary plus the ARIA Award winning video "Straight Lines". The album is also being released on vinyl as a very limited edition sold through the LAS Store.

Silverchair fans should also keep their ears peeled for a new remix of "Straight Lines" by acclaimed Sydney duo The Presets. The radically retooled version can be heard right here and on the bands Myspace page from Monday 19th November. The remix will be available online from Saturday December 1 as part of an exclusive repackaged itunes album release.
For all the US tour info. check out the Tours section
15-11-2007
South American fans are so keen to see Silverchair perform there they have created a number of petitions. This has started a ground swell of interest across the Internet and on local media. Check out the petitions and media links here:
10-11-2007
If you have tried visiting chairpage.com in the last 10 hours or so you might have been presented with a web page saying the domain has expired or "coming soon".
This was due to an administrative error. We apologise for any inconvenience.
29-10-2007
Silverchair swept the 2007 ARIA Awards in Sydney last night. They won five ARIA's - more than any other artist this year.

Most significantly the band took out the prestigious Album Of The Year award for their acclaimed "Young Modern". While they've had five chart topping albums over their career this was actually the first time that any Silverchair release has received that honour.

They also received the following awards:

Best Rock Album
Single Of The Year
Best Group
Highest Selling Single
Best Video

This extraordinary achievement makes Silverchair the most successful artist in the entire history of the ARIA Awards. Last night's haul took the band's career tally to 19 eclipsing John Farnham's previous record of 18 career gongs.

Silverchair opened the Awards telecast with a memorable performance of "Straight Lines" and set the tone for a very special night that cemented Silverchair in their rightful place as one of the most acclaimed and successful bands in Australian music history

The band was obviously moved by the accolades, thanking "all the people who have stuck with them over the years".

The ARIA's capped the busiest few months of the band's entire career. They have toured non-stop over the last 16 weeks racking up nearly 60 shows around the world including international festival appearances and their hugely successful "Across The Great Divide" tour with co-headliners, Powderfinger. Those shows came to an end on Friday night in Silverchair's home town of Newcastle.

The group will now take 2 weeks off before returning to the U.S. for 5 weeks of shows. "Straight Lines" is currently a top 10 video and top 20 airplay hit in North America and has received the strongest reviews of Silverchair's career.
28-10-2007
Silverchair swept the major gongs at tonight's ARIA awards taking out:
1) Album of the Year (Young Modern)
2) Single of the Year (Straight Lines)
3) Best Group
4) Best Rock Album (Young Modern)
5) Highest Selling Single (Straight Lines)

Congratulations to the band from everyone at chairpage.com. You deserve it!
23-10-2007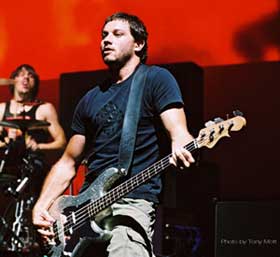 This is a once in a lifetime opportunity to own the personally signed Silver Sparkle G&L Bass Guitar used by Chris Joannou Bass guitarist for Silverchair. This is his personal guitar that Chris has played for the past 9 years when touring overseas. He also played this guitar at all the concerts while touring Australia during the "Across the Great Divide" tour.

Chris is the patron of "Nathans Bequest" a charity set up by the Rotary Club of Sydney CBD to provide funds for research into youth suicide and to raise awareness of mental health issues experienced by young adults in our community. Youth suicide is a major killer of young people in Australia and funds are urgently needed to assist organisations that help young adults suffering mental illness and to provide funds for research.

Chris has also organised a framed "Across the Great Divide" tour poster including 2 CD covers signed by all members of Silverchair and Powderfinger (see image in left column).
Bids for both of these items can be placed by accessing the "Silverchair CBD Rotary" site on Ebay.
BE AWARE this Ebay auction will close on the 1st November, 2007 at 10.00am (AEST) so get your bids in early and regularly monitor the site for bid updates.
Place a bid now and help us conquer this disease.
21-10-2007
YOU ASKED FOR IT – YOU GOT IT!

Here's your chance to PRE-ORDER the exceptional Young Modern on VINYL.

Payments will be processed immediately but please be aware that we won't be despatching until stock arrives in November.

All orders will go in a draw to win a copy of the album PERSONALLY SIGNED by Daniel, Ben & Chris.

PRICE WITHIN AUSTRALIA $45 (INC. GST)
PRICE OUTSIDE AUSTRALIA $50

***THESE PRICES ARE INCLUSIVE OF ALL YOUR POSTAL AND HANDLING CHARGES!***

All prices are in Australian dollars.

Image is indicative only as product does not yet exist.

Get in now to PRE-ORDER your copy of Young Modern on VINYL.
www.chairpage.com/app/webroot/store/catalog/index.php
08-10-2007
"If You Keep Losing Sleep" has stayed at #1 in JTV's "Hottest 20 Chart" making it two weeks in a row in that spot.
The track is the third single lifted from Silverchair's widely acclaimed #1 album "Young Modern" and is available instore NOW.
You can also order your CD online. Very handy, especially if you live outside Australia.