29-11-2007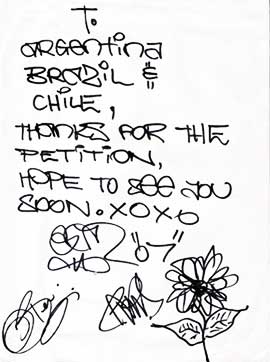 A couple of weeks ago chairpage was made aware of a series of petitions South American fans have created in the hope of seeing Silverchair perform there live. This started a ground swell of interest across the Internet and on local media.
Check out the petitions and media links here:
Chilean petiton
Argentina petition
Brazil petition
Rockaxis
The band was made aware of these petitions and have sent chairpage this message for fans in Chile, Argentina and Brazil.
29-11-2007
Hooray!!! The Young Modern vinyl has finally left the factory and is en route to the LAS ready for us to package and post. We will be endeavouring to despatch NEXT WEEK to all those people who have pre-ordered.
Just a reminder that we were only allocated enough stock to satisfy the pre-orders and unfortunately we have none remaining.
28-11-2007
While on their recent "Across The Great Divide Tour" Silverchair and Powderfinger did a bit of music collaborating. You can have a listen to a snippet of the new "Powderchair" song by downloading the free ringtone. The story behind the collaboration is revealed in the candid 90 minute documentary film included in the triple disc Across the Great Divide DVD that's out December 1.



28-11-2007
A new LIVE clip for "If You Keep Losing Sleep" from "Across The Great Divide" is now showing on Australian music TV channels and programs. The clip is taken from the upcoming Across The Great Divide DVD (out this Saturday) but if you would like to see it sooner you can request it from...

www.mtv.com.au/music/ - MTV
www.channelv.com.au/V/Requests.aspx - Channel [V]
www.tmf.net.au - TMF
26-11-2007
Silverchair's fan club (The LAS) recently released printed cells from the "Reflections of a Sound" video clip – Limited edition, all numbered and personally signed by the band members.
Only 200 of each have been printed so orders will be processed STRICTLY on a first come-first served basis. These prints are beautifully and professionally custom framed in Australia with a metallic finish frame. Perspex has been used instead of glass for added safety during shipping. Each limited edition print comes complete with a certificate of authenticity.
These cells are NOW 10% OFF! so will sell out very quickly. Grab yours now.



26-11-2007
LOVE SILVERCHAIR AND WANT TO JOIN THEIR BAND OF SUPPORTERS?
The LAS is Silverchair's Official Fan club - dedicated to offering special benefits and exclusive information. It has the full support and input of the band members themselves, Daniel, Ben & Chris.
The LAS recently launched an all new fan club structure offering exciting new features and services to their members. These include:
Behind-the-scenes video (filmed by the band)
Performance video
Up to date news
Exclusive photos
Contests
Members only message board/forum where the band will post
Private webstore exclusively for members only where you can get first access to exclusive LAS and chair items from time to time
A "Wall of Fame" where members can share anything Silverchair or LAS related with other members
First access to concert tickets wherever possible. As this depends entirely on the co-operation of various agencies and promoters unfortunately this can't always be guaranteed, especially outside of Australia.
A newsletter (full of news and exclusive photos) emailed several times per year direct to your inbox
An annual membership package that may include a bag, exclusive recorded material, membership badge, embroided patch, wristband and stickers just to name a few


If you love Silverchair and want to join their band of supporters please check out
The LAS website
for more info.
21-11-2007
We are more than chuffed to confirm that Silverchair will return to the Big Day Out stage in 2008!

The band will perform at all the Australian shows alongside Rage Against the Machine, Bjork, Arcade Fire, Pnau, LCD Soundsystem and a whole host of other local and international acts. It's been 6 years since Silverchair graced the Big Day Out stage and this time around it will be bigger and better than ever before. Silverchair are set to perform complete with a brass section and backing vocalists - which will make for an unforgettable live set!

Since announcing the first round of Big Day Out artists for the 2008 series, tickets have been snapped up at lightning speed with the Gold Coast, Sydney and Melbourne events selling out in less than 24hrs. If you live in Adelaide and Perth wait no longer - purchase your tickets now!

Dates are:
January 20th GOLD COAST - Parklands
January 25th SYDNEY - Sydney Showgrounds
January 28th MELBOURNE - Flemington Racecourse
February 1st ADELAIDE - Adelaide Showgrounds *Tickets available
February 3rd PERTH - Claremont Showgrounds *Tickets available

For all venue and ticketing information head to www.bigdayout.com for all details.
21-11-2007
The 'Across The Great Divide' final show is coming to your loungeroom this Christmas with the release of a deluxe triple DVD.

This special three disc release is strictly a limited edition and will not be manufactured again after the 2007 holiday season. Fans can pre order the DVD from www.acrossthegreatdivide.com.au/shop and will go in the draw to win a special 'Across The Great Divide' prize pack consisting of:

1 x signed 'Across The Great Divide' tour programme
1 x signed copy of Silverchair's album 'Young Modern'
1 x signed copy of Powderfinger's album 'Dream Days At The Hotel Existence'
1 x Silverchair T-shirt
1 x Powderfinger T-shirt
1 x signed 'Across The Great Divide' tour poster
1 x 'Across The Great Divide Tour' stubby holder
1 x 'Across The Great Divide Tour' T Shirt

(due to overwhelming demand the bonus T-shirt offer has sold out and is no longer available).

The Across the Great Divide DVD will be released by Universal Music Australia on Saturday, 1 December 2007.

PLEASE NOTE - This release is a PAL version and it will not work on NTSC TVs. NTSC is used mainly in the U.S.A, Japan, Mexico and Canada.
20-11-2007
Following is a list of request and voting links for TV and radio stations around the world. If you want to see and hear more Silverchair please use these links to lodge your requests. (thanks to Narc for help in compiling the list).
If you have your own local links to TV and radio request lines you'd like to add, please let us know so we can add 'em to help spread the word.
19-11-2007
As promised here's the new remix of "Straight Lines" by acclaimed Sydney duo The Presets. The radically retooled remix will be available for online purchase from Saturday December 1 as part of an exclusive repackaged iTunes album release.
Listen now (opens a popup then click play button)